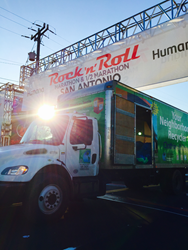 San Antonio, TX (PRWEB) December 07, 2015
American Textile Recycling Service (ATRS) kicked off its fourth anniversary of the ROCK RUN RECYCLE campaign last weekend at the Humana Rock 'n' Roll San Antonio Marathon & 1/2, which attracted an estimated 25,000 runners.
Marathoners donated gently used running gear at the Expo before sprinting through Alamo City on Sunday, shedding their warmup layers along the way. As always, the ATRS Green Team trailed the Marathon & 1/2 pack to pick up and recycle all of the jackets, sweaters, gloves and other textiles tossed at the corrals and along the first few miles of the course.
Approximately 3,343 pounds of recyclable materials, including unused runner swag, were collected at the race. All donated textiles from the Expo, on the course and at the finish line benefit Center On Independent Living (COIL), the ATRS nonprofit partner in San Antonio. This funding is much needed by COIL, which works to promote independence in the lives of local residents with disabilities.
Additionally, 220 cases of perishable and non-perishable items were recycled at the finish line. For the second consecutive year, ATRS donated all of the perishable food items to Family Violence Prevention Service - The Battered Women and Children's Shelter (FPVS) in San Antonio. FPVS aims to break the cycle of violence and strengthen families by providing emergency shelter, transitional housing, effective parenting education and specialized intervention with youth and elderly.
All donated warm up gear, clothing, towels, unused runner swag and other valuable textile items will be reused, redistributed and recycled. This effectively diverts unwanted waste from local landfill, decreases the carbon footprint of this large scale event and helps support worthy local charities. It's a win win win for participants, organizers and the City of San Antonio!
ATRS would like to thank all the runners, participants and spectators for supporting the ROCK RUN RECYCLE campaign for the fourth year in a row and creating a cleaner, greener race at the Humana Rock 'n' Roll San Antonio Marathon & 1/2.
About the Rock 'n' Roll Marathon Series
Organized by Competitor Group, the Rock 'n' Roll Marathon Series annually welcomes more than 600,000 professional and amateur runners taking part in 29 events around the world. The series, which started in 1998 with the simple idea of making running fun, has transformed the U.S. running landscape by infusing the course with live bands, cheer teams and entertaining water stations, creating a block-party atmosphere for participants and spectators alike.
Race weekend kicks off with a free Health & Fitness Expo showcasing the latest in running gear, sports apparel, health and nutritional information and much more. Events culminate with an entertaining finish line festival featuring some of the biggest names in music, with past headliners including Pitbull, FloRida, Bret Michaels and Macklemore. Rock 'n' Roll Tour Pass offers runners access to run multiple races for one-low price and earn Heavy Medal bling by completing more than one race in a calendar year. For more information, please visit RunRocknRoll.com or follow @RunRocknRoll on Twitter.
About American Textile Recycling Service
American Textile Recycling Service (ATRS) is the nation's fastest growing textile recycler and an official recycling partner of Rock 'n' Roll Marathon. Its socially responsible business model provides free textile recycling solutions for the public, job stimulation worldwide and much-needed funding for worthy local charities. Easy, convenient ATRS Recyclers are available throughout Colorado, Texas, Florida, Michigan, Tennessee, Atlanta, Oklahoma, Arizona, Indiana and Southern California. ATRS is committed to keeping textile waste from local landfills and promoting a greener tomorrow. For press inquires contact pr (at) atrsonline (dot)com.