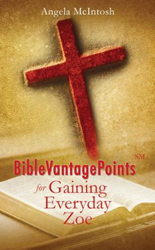 I hope that readers will be inspired to deeply know the God who is the source of this insight ...
Frederick, MD (PRWEB) December 09, 2015
Within the pages of Angela McIntosh's new book, BibleVantagePointsSM for Gaining Everyday Zōe, ($23.99, paperback, 9781498455893) readers will gain spiritual insight – insight whose source is Heaven itself – the best kind of insight and knowledge for earth-bound, practical living. Angela McIntosh is a Bible teacher with the spiritual gift of teaching. She has spent time in serious study of the Word of God since her re-dedication to the Lord following the events of September 11, 2001. Following that traumatic event, as well as a time of personal upheaval, Angela began a quest to understand the Word of God in both a spiritual as well as practical sense, with the goal of practical application of the Word to life's varied and routine challenges.
As she spent daily devotional time with the Lord gaining insights on how to apply the Word in this practical, common sense way, the BibleVantagePointSM teaching ministry was birthed. This book is the result of the leading of the Holy Spirit in His desire that those insights be shared with as many people as possible. Angela continues to teach adults under the BibleVantagePointSM ministry banner. She also teaches children at the church she currently attends.
"I hope that readers will be inspired to deeply know the God who is the source of this insight, and in doing so, discover for themselves the best friend they can ever gain, and the most abundant type of life they can ever experience, this side of Heaven," states the author.
Angela McIntosh stresses that the Bible is not merely a book of morals and rules to be ignored or followed – but a book of unmatched intelligence, wisdom, and common sense. When rightly understood and consistently applied, a person will not only find the one true God but will find the highest life that this God has always intended for the humanity He created.
Xulon Press, a division of Salem Media Group, is the world's largest Christian self-publisher, with more than 15,000 titles published to date. Retailers may order BibleVantagePointsSM for Gaining Everyday Zōe through Ingram Book Company and/or Spring Arbor Book Distributors. The book is available online through xulonpress.com/bookstore, amazon.com, and barnesandnoble.com.
Media Contact: Angela McIntosh
Email: shortaccounts(at)zoho(dot)com