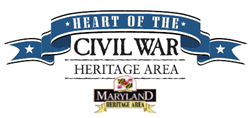 Frederick, MD (PRWEB) December 09, 2015
The Heart of the Civil War Heritage Area (HCWHA), a certified heritage area encompassing parts of Carroll, Frederick and Washington counties, announces a grant opportunity for FY17 projects through the Maryland Heritage Areas Authority (MHAA).
MHAA offers nonprofit organizations and government entities grants of up to $50,000 for non-capital projects (including planning, interpretation, and programming) and up to $100,000 for capital projects (including acquisition, pre-development, development, rehabilitation, and restoration) within the boundaries of the Heritage Area.
HCWHA will host three workshops for prospective applicants in January:

Frederick County: Wednesday, January 6 at 10:00 AM – Winchester Room,
Winchester Hall, 12 E. Church Street, Frederick. Local contact: Denis Superczynski,
Principal Planner, Frederick Co. Community Dev. Division,
dsuperczynski(at)frederickcountyMD(dot)gov or 301.600.1142.

Carroll County: Tuesday, January 12 at 3:00 PM – Westminster Branch Library, 50 E.
Main Street, Westminster. Local contact: Andrea Gerhard, Comprehensive Planner,
Carroll County Bureau of Comp. Planning, agerhard(at)ccg(dot)carr(dot)org or 410.386.2145.

Washington County: Wednesday, January 13 at 10:30 AM – Boonsboro Branch
Library, 401 Potomac Street, Boonsboro. Local contact: Rachel Nichols, Washington
County Heritage Area Assistant, rbknichols(at)gmail(dot)com or 240.308.1740.
At each workshop, we will review eligibility, the application process, and tips for creating a competitive application. Consider bringing your laptop if you would like to log onto the online application portal. Please RSVP to agelles(at)fredco-md(dot)net. Attendance is encouraged but not required. Additional regional workshops and webinars will be offered through MHAA.
The grant application process will be posted online at mht.maryland.gov/grants.shtml. The intent to apply form is due on January 29. Applicants are encouraged to submit drafts to their local grant contacts and HCWHA staff by February 9 in order to make revisions to the application due on February 26.