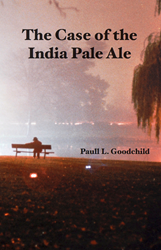 Westport, Massachusetts (PRWEB) December 15, 2015
Author Paull L. Goodchild published his first novel, The Case of the India Pale Ale, on November 23, 2015. It is a noir satire based on a twelve-part serial story first presented on the labels of a Buzzard's Bay Brewing I.P.A. in 2010.
The Case of the India Pale Ale recounts an anonymous detective's investigation into the disappearance of an antique recipe for the 'original' India Pale Ale. The comic novel winds through backstory digressions and sinister complications to tell a tale of alcoholic conspiracy, immoderation, and authenticity.
One of those digressions, "The Exploits of Count Vorlauf in the Hop Wars," is a twelve-part adventure story that takes on the hero's journey with the same irreverence that the novel shows toward the detective story. BBB brewed a new beer—a Double I.P.A—and this narrative graces the labels of that offering. The beer was released on December 5th in honor of Repeal Day.
The 172 page book was published through Amazon's CreateSpace and is available worldwide in paperback or in a Kindle edition through Amazon.
About Paull L. Goodchild: Paull L. Goodchild is an author and winemaker who lives paradise adjacent in Westport, Massachusetts. In addition to making wine he has also brewed and distilled, winning him the trifecta of adult beverage production. He is the lyricist for the doom metal band, Retro Grave, who are currently working on their third album, Skullduggery, a Faustian rock opera. The book for that rock opera and one of the songs, "Kinder Gentler Satan," appear in the novel, The Case of the India Pale Ale. A free download of the song performed live is available at retrogravemusic.com.
About Buzzard's Bay Brewing: BBB was founded in 1998 by Russell Family Farms, who also own and operate Westport Rivers Vineyard and Winery. The winery employs Paull L. Goodchild in the capacity of defensive coordinator. The brewery, located at 98 Horseback Rd. in Westport, MA, crafts ales in several styles available throughout Southeastern Massachusetts. Taproom hours are Tues.-Sat., 1-8p.m.