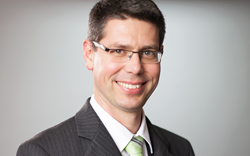 Boston, MA (PRWEB) December 08, 2015
e-Spirit Inc., a leading supplier of content management solutions, today announced that Andreas Knoor has been named Chief Operating Officer of e-Spirit Inc., building on the successful foundation established by the outgoing Robert Bredlau who has held the position for the past three years. Bredlau will be taking on the role of Vice President International Partner Management & Channels. Knoor will relocate to e-Spirit's Boston office and assume his new position in January.
"As companies shift their focus to digital transformation and improving the experience for their customers, e-Spirit is incredibly well positioned for success," Knoor said. "We have a strong organization, an impressive group of satisfied customers, and the right approach to solving content management challenges. We're seeing a clear preference for best-of-breed solutions like FirstSpirit in the market as companies make investments in transforming their digital operations and strategies."
Knoor joined e-Spirit as a software architect in 1999 shortly after the company's formation. He quickly moved into a project manager role before being named Vice President Product Management in 2008. Under his leadership, e-Spirit has maintained its focus on providing the industry's best Web content management solution for usability, scalability and integration with other best-of-breed technologies. He holds an advanced degree in information technology from the University of Dortmund.
Bredlau will continue to be a key contributor to e-Spirit's success in his new role in International Partner Management driving partner network expansion and ensuring a unified, strategic and consistent approach in every market." He will also continue to work with industry analysts such as Gartner, Forrester and IDC..
"With our focus on delivering the industry's best content management system, partners play an essential role to further grow e-Spirit and in helping customers implement a comprehensive solution that is truly transformative," Bredlau said. "We have enjoyed considerable success growing our partner network in Europe and North America over the past few years and I look forward to continuing this momentum on a global scale."
About e-Spirit
e-Spirit is a leader in enabling companies to unlock the value of digital content and transform the way they communicate with customers and employees. Using the FirstSpirit content management system, organizations can create a Corporate Content Cloud connecting all their people, systems and applications to the centralized, real-time data, assets and information necessary to publish content with total accuracy and relevancy across all channels and devices. Founded in 1999, e-Spirit operates in 16 locations in the United States and Europe. Clients include Lancôme, Airbus, BASF, Bosch, Santander Bank, Urban Decay, Olympus, Barbri, Nord Drive Systems and WellDyne.