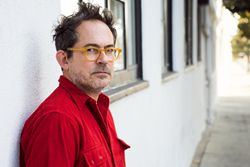 Guys look to Five Four for more than just clothing, and I want them feeling confident as hell.
Los Angeles, CA (PRWEB) December 08, 2015
Five Four has announced American menswear designer Mark McNairy has joined the growing menswear brand as head designer, with oversight of all product design. In addition to creating new designs for Five Four (an exclusive McNairy collection is slated for fall '16), he will apply his expertise as a classic menswear designer and translate it to fit a fast-fashion model with emphasis on fit, color, and detailing that allow garments to stand out. McNairy launched his partnership with Five Four in July 2015 when he debuted a capsule collection appropriately dubbed "Camp McNairy"; the garments and accessories had McNairy's whimsical designs integrated throughout. The collection was tremendously successful and in alignment with fashion-forward initiatives for both parties.
When asked what drew him to Five Four, Mark stated, "Andres (Izquieta) and I have a similar vision on how to bring fashion-forward designs to members, so it was a symbiotic melding of minds." He outlined the challenge of creating original designs for the mass-market, citing "subtle edge" as a design necessity. "I learned a lot from our first collaboration. Guys look to Five Four for more than just clothing, and I want them feeling confident as hell. It also gives some of my younger fans access to my designs because they may not be able to afford my stuff otherwise."
McNairy has established a solid reputation as a contemporary menswear designer whose work has been covered by reputable publications including New York Times, Complex, and GQ, that named him as one of the Best New Menswear Designers. The designer has worked in the fashion industry his entire life stating, "I'm not capable of anything else so I have no choice. I am very lucky to make a living from my hobby." His tenure at J.Press gained notice, especially with the emerging trend of incorporating classic Americana styles in different genres of fashion. When McNairy incorporated colorful soles on a classic brogue shoe for his eponymous brand, he gained traction in the footwear industry, which allowed him to partner with mainstream brands including Keds, Timberland, and Bass. He collaborated with Adidas to create a capsule collection, which included both sportswear and footwear, showcasing his affinity for vibrant colors. The designer's pieces have been adorned by a notable celebrity clientele including Pharrell Williams, Cam'Ron, Joe Jonas, and Rihanna amongst others.
Andres Izquieta, Five Four's CEO and co-founder, stressed the importance of McNairy's infusion to the entirety of the brand. "Mark brings his own brand of attitude, which our members have responded quite well to. He's someone that understands fashion in and out - not only from a purely aesthetic point of view, but the minute semantics that go into creating a cohesive collection, season after season." Izquieta added, "Beyond Mark's expertise, I love that we provide members access to our Five Four lifestyle, which Mark reflects with his insight and whimsy. You can't put on one of his pieces without it bringing a smile to your face."
ABOUT FIVE FOUR
Five Four is a contemporary menswear brand crafting styles for the modern man. Founded in 2002, the company takes pride in its independence, phasing from a traditional retail label to a modern, technology-driven lifestyle brand. Today its main vehicle is Five Four Club, the only men's clothing service utilizing a 360° approach to directly deliver exclusive style to its members. This translates to members receiving curated packages every month based on their style preferences. To date, over 150,000 members throughout North America and the UK have entrusted Five Four to refresh their wardrobe and style.
Visit Five Four to learn more, and take the style profile quiz.