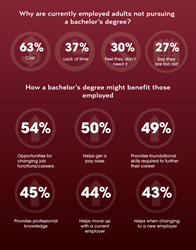 "It is clear that working adults in the U.S. need access to affordable degree programs that allow them to balance the demands of work and family life."
Irvine, California (PRWEB) December 10, 2015
As employers demand better-educated staff, the job world is changing for both traditional and non-traditional students while barriers grow larger for those not pursuing a degree. In a recent survey conducted online by Harris Poll on behalf of Brandman University among 3,027 U.S. adults age 18 and older, 63% of employed adults who don't have a bachelor's degree and are not pursing one cite tuition and textbook costs as the biggest barriers, followed by 37% who say they don't have time to pursue a degree, while 27% believe they are "too old" to work towards a bachelor's degree.
Nearly a quarter of American adults started college but didn't finish – about 37 million people, according to research commissioned by the Gates Foundation in 2013. Now, they're being left behind in an economy increasingly focused on bachelor's prepared workers. This new survey sought to identify what working adults say are the primary reasons they aren't pursing a degree today, but also insight regarding the perceptions of the importance/value of a bachelor's degree, and what they might need to pursue one. Nearly four-in-five adults (78%) say there are significant benefits in earning a degree from an accredited university, and a clear majority (90%) says consideration of pursing one would need to be on 'their terms' (e.g. they would choose when/where/how they take classes).
"The message from this survey is that working adults recognize the value of earning a bachelor's degree but they are not able to put their lives on hold to go back to college and many are concerned about the costs," said Brandman University Chancellor Gary Brahm. "It is clear that working adults in the U.S. need access to affordable degree programs that allow them to balance the demands of work and family life."
Brandman, part of the Chapman University System, is a nonprofit institution that has been serving nontraditional students since 1958 and distinguishes itself by focusing on academic programs specifically tailored to address the challenges of working adult students. Earlier this year Brandman launched MyPath, an innovative new competency-based platform that allows adult students to pursue a bachelor's degree entirely via a tablet or laptop computer at their own pace, on their own time.
More than two years in the making, the first-of-its-kind online program represents an entirely new path to a bachelor's degree, allowing students to earn an accredited degree at a fraction of the cost. MyPath incorporates an entirely new tuition model as well; students pay $5,400 per academic year allowing them to learn as much as they can. In addition, the new technology developed for MyPath incorporates all material within the online platform so there are no textbooks to buy, saving students thousands of dollars.
"Competency-based education has been shown to be an increasingly effective tool to get qualified, experienced graduates to the marketplace quickly, and for them, MyPath does that cost-effectively. Moreover, it allows them to focus on what they need to learn, not what they already know. That is particularly important to working adult students and typical students can complete their bachelor's in two or three years, which means a savings in both time and money," Brahm added.
For those working adults who think they are too old to go back to college (27% in the survey) MyPath has proven to be effective for older students. Take 58-year-old Venita Campagna, one of the students who have been beta testing the platform over the past year. She was forced out of retirement after her husband's battle with cancer drained their life savings and found that she needs a bachelor's degree to make more than minimum wage. "This program has given me confidence, hope and proves you're never too old to go back to college," Campagna said. "The quicker I work, the faster I'll earn my degree. The faster I earn it, the less it costs. I'm hoping to finish within the next year."
"I absolutely love it. This program is a life-changer for me," said fellow beta student Amanda Harvey, 34 years-old and works full time for a real estate company in Irvine. "I've been working for 11 years now and I realize that I could have been going to school that whole time. I'm at the ceiling of where I can go with my career but now thanks to MyPath I'll finish my bachelor's degree in less than two years."
Beta student Colin Grieg, 36, echoes that sentiment. "I thought this would be the right time to get back into school, and this program has been phenomenal. Everything I'm learning is new because of the personalized education plan. I love that everything is all in one place, accessible on my tablet," he said. "I know that when I earn this degree it will open up so many new opportunities for me."
The study further revealed that over a third (37%) say their career advancement has been negatively impacted because they do not have a bachelor's degree, while just 20% say their employer encourages them to pursue a degree. More than half (54%) of those employed without a bachelor's said that it would help when changing job functions or careers and one-half said it would help get a pay raise.
About The Harris Poll
Over the last 5 decades, Harris Polls have become media staples. With comprehensive experience and precise technique in public opinion polling, along with a proven track record of uncovering consumers' motivations and behaviors, The Harris Poll has gained strong brand recognition around the world. The Harris Poll offers a diverse portfolio of proprietary client solutions to transform relevant insights into actionable foresight for a wide range of industries including health care, technology, public affairs, energy, telecommunications, financial services, insurance, media, retail, restaurant, and consumer packaged goods. Contact us for more information.
About Brandman University
Brandman University is a private, nonprofit institution accredited by the WASC Senior College and University Commission. As part of the Chapman University System, Brandman blends a legacy of academic excellence with innovative curriculum and strong support services designed for students with busy schedules. The university offers 50+ undergraduate, graduate, credential and certificate programs across its schools of arts and sciences, business, education, nursing and health. Brandman serves 12,000 students annually with programs available online and at 26 campuses throughout California and Washington. The university's online programs consistently rank among the top in the nation by U.S. News & World Report. http://www.Brandman.edu
Survey Methodology
This survey was conducted online within the United States between October 6-8, 2015 by Harris Poll on behalf of Brandman University via its Quick Query omnibus product. Respondents included 3,027 adults ages 18 and older, among which 821 are employed and do not have a bachelor's degree, and 749 are employed without a bachelor's degree and aren't currently pursing one. Figures for age, sex, race/ethnicity, education, region and household income were weighted where necessary to bring them into line with their actual proportions in the population. Propensity score weighting was used to adjust for respondents' propensity to be online.
All sample surveys and polls, whether or not they use probability sampling, are subject to multiple sources of error which are most often not possible to quantify or estimate, including sampling error, coverage error, error associated with nonresponse, error associated with question wording and response options, and post-survey weighting and adjustments. Therefore, the words "margin of error" are avoided, as they are misleading. All that can be calculated are different possible sampling errors with different probabilities for pure, unweighted, random samples with 100% response rates. These are only theoretical because no published polls come close to this ideal.
Respondents for this survey were selected from among those who have agreed to participate in our surveys. The data have been weighted to reflect the composition of the adult population. Because the sample is based on those who agreed to participate in the online panel, no estimates of theoretical sampling error can be calculated.