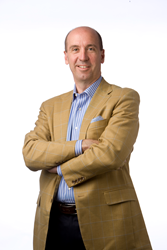 These 5 books encourage intellectual humility; and focus on how to ask better questions, both of which have the ability to make the future a brighter place.
Minneapolis, MN (PRWEB) December 09, 2015
Author Haruki Murakami says, "If you only read the books that everyone else is reading, you can only think what everyone else is thinking." As a futurist, Jack Uldrich does his best to think beyond what others are thinking. He says reading is one of the many tools that helps him evolve as a forecaster.
Uldrich's forecast for the top 5 books of 2015 include "Superforecasting: The Art and Science of Prediction" by Philip E. Tetlock and Dan Gardner; "A More Beautiful Question: The Power of Inquiry to Spark Breakthrough ideas" by Warren Berger; "Non Obvious: How to Think Differently, Curate Ideas & Predict the Future" by Rohit Bhargava; "Zero to One: Notes on Startup, Or How to Build the Future" by Peter Thiel (with Blake Masters) and "Exponential Organizations: Why New Organizations Are Ten Times Better, Faster, and Cheaper Than Yours (And What To Do About It)" by Salim Ismail (with Michael S. Malone and Yuri Van Geest.)
(A more in depth look at his top five books can be read in this article: A Futurist's Top Five Books of 2015.)
Because of the information contained in these books, Uldrich says he focuses more and more on, "the need for intellectual humility." He also spends "extra time helping clients reframe old questions, as well as asking new ones" and devotes additional time to what he deems, "the vital tasks of reading, thinking and reflecting."
He credits "Superforecasting: The Art and Science of Prediction" with insights of, "seeking out evidence that might prove you wrong," and "keeping track of your forecasts." And he sites "A More Beautiful Question: The Power of Inquiry to Spark Breakthrough Ideas" as a "wonderful book" that earned the distinction of being, "his most underlined book of the year."
A renowned global futurist, Uldrich is the author of 11 books himself, including the award-winning bestsellers "The Next Big Thing Is Really Small: How Nanotechnology Will Change the Future of Your Business"; "Jump the Curve: 50 Strategies to Help Your Company Stay Ahead of Emerging Technology"; and "Foresight 20/20: A Futurist Explores the Trends Transforming Tomorrow."
In 2016 Uldrich plans to release his new book, "Win the Future: The Big AHA." He also plans on delivering his latest keynote speech, "Question the Future" to several new and existing clients.
In the new keynote Uldrich shares with his audiences "how the art and science of framing and asking better questions will not only help individuals and organizations survive tomorrow's rapidly changing environment, but will also help them thrive --by providing the key insights necessary for confidently creating their own future."
Uldrich says his work overall, and his new keynote in particular, have been directly influenced by this 2015 reading list. "Never under estimate the power of a good book," says Uldrich. "Our advancement depends on expanding our mindset, and reading is one of the best tools I know to do that."
As a futurist, Uldrich forecasts these five books will serve as an excellent primers for those who want to continue their evolution in 2016.
Parties interested in Uldrich's work are encouraged to view his website.