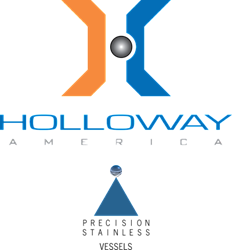 HOLLOWAY is now one of only 40 SHARP-certified employers in Missouri.
(PRWEB) December 08, 2015
The Occupational Safety and Health Administration (OSHA) recently accepted HOLLOWAY AMERICA into the Safety & Health Achievement Recognition Program (SHARP), which was created as part of the US Labor Department's commitment to assuring safe and healthful working conditions throughout the country. The program certifies employers that have achieved excellent worksite safety and health standards by using OSHA's services to improve and maintain injury and illness prevention measures.
HOLLOWAY AMERICA, a company renowned for its custom fabrication of tanks and pressure vessels, was honored to receive SHARP certification. "I'm proud of all our employees for such an outstanding shift in safety culture here in our shop," said HOLLOWAY Safety Director Kevin Mau. "It takes a great deal of effort to make a change like this, and our dedicated craftsmen deserve congratulations." Mau went on to thank HOLLOWAY's ownership and management for their support: "Without the support of our company leaders, this important focus on safety would not have been possible."
HOLLOWAY AMERICA's outstanding work in crafting stainless steel pressure vessels, commonly referred to as stainless steel pressure tanks, and other custom machinery makes the SHARP recognition especially appealing to prospective engineers. Randy Colwell, the fabrication company's Director of Marketing, said there are clear benefits to earning SHARP certification: "Employee wellbeing is easily one of the most obvious rewards for meeting SHARP requirements. We're honored by the recognition and are confident our excellent health and safety standards will attract and retain talented engineers and craftsmen." HOLLOWAY shares its SHARP-employer status with fewer than 40 companies in the state of Missouri.
The requirements for SHARP approval are rigorous, therefore the achievement helps HOLLOWAY stand out as an ideal representation of safety and healthfulness for other pressure vessel fabricators in the industry. To become a SHARP employer, HOLLOWAY participated in on-site consultations with OSHA, implemented new management systems, lowered its illness and injury rates below the national average and more. Requirements for admittal to SHARP are outlined in detail at labor.mo.gov/sharp.
For more information on custom fabrication of tanks, pressure vessels and equipment or for details about its Safety & Health Achievement Recognition Program certification, contact HOLLOWAY AMERICA at 417.863.0077 or by email at info(at)HollowayAmerica(dot)com.