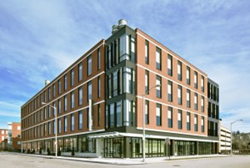 We have just under 18,000 square feet of prime space and everything is top of the line.
Worcester, MA (PRWEB) December 08, 2015
Barton Associates, a leading national healthcare staffing and recruiting agency (locum tenens) has announced the opening of it's newest location at 50 Prescott St. Worcester, MA, scheduled for January 2016.
The office is steps away from the Worcester Polytechnic Institute campus and located in the heart of the city. It will house 76 work spaces, 63 of which will be for new hires.
"We're really excited about our new Worcester location," says Jonathan Retchin, Barton's Director of Talent Acquisition. "We have just under 18,000 square feet of prime space and everything is top of the line. Working for a company that hires new and recent college grads to work on our sales and recruiting teams, I couldn't ask for a better location. The office is surrounded by excellent colleges and universities that we look forward to partnering with and recruiting from."
The Worcester office is Barton's eighth staffing location, and will add more than 60 new employees to the company's growing workforce of 500 plus. The company's rapid growth is largely due to the physician and healthcare provider shortage currently facing the United States. Being a company that specializes in recruiting physicians, nurse practitioners, physician assistants and dentists to work temporary positions at hospitals, practices and healthcare companies across the United States, Barton's growth is likely to continue into the next decade.
"All of the demographics indicate a growing demand for a limited supply of doctors. The Association of American Medical Colleges (AAMC) projects a shortage of 70,000 physicians by 2015, and expects that number to reach 130,000 by 2025," said Barton Associates President and Chief Operating Officer, Rob Indresano. "Meeting the physician shortage will create a world of opportunities for our business."
Barton has already begun the process for staffing the 63 entry-level sales and administration positions for the Worcester office, with hopes of finishing the process by mid year.
"We're currently interviewing and hiring for the January opening," says Retchin. As of today, we expect to open up on January 4th with over 20 new hires. We project the office to be full by the end of the summer."
Interested candidates can apply on the company's careers website, http://www.bartoncareers.com.
About Barton Associates
Founded in 2001, Barton Associates is a leading national locum tenens physician, nurse practitioner, physician assistant, and dentist staffing and recruiting firm, matching talented locum tenens providers with healthcare facilities, practices, and companies nationwide, in a wide variety of practice areas. Barton Associates headquarters is located in Peabody, MA, with additional offices in Hardwick, MA, Jupiter, FL, Enfield CT, Austin, TX, Keene, NH, and Tempe, AZ.