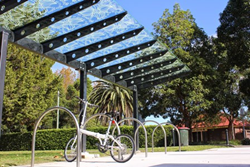 "Securabike's innovative, high-quality products will strengthen our strategies in design, space planning and security for bike parking and storage, whether the location is a college or corporate campus, a city or a residential area."
(PRWEB) December 09, 2015
Duo-Gard and Securabike, both prominent in bicycle shelters, storage, parking and security systems, have announced an agreement. Duo-Gard will be the exclusive North American distributor for Securabike, headquartered in New South Wales, Australia.
Since 1993, Duo-Gard has been a pioneer in the design, engineering and fabrication of bike shelters and systems that integrate high security and safety with architectural aesthetics. Offering both interior and exterior solutions with open and enclosed, standard and custom designs, Duo-Gard's shelters can incorporate leading-edge security options, a critical aspect of today's burgeoning biking industry.
Duo-Gard's bike systems were recently named one of the Top 10 Green Building Products for 2016 by BuildingGreen, an independent industry leader in green building information for the building and design communities. BuildingGreen cited Duo-Gard's wide range of styles and materials, including options for photovoltaics, as well as its commitment to alternative transportation with security for today's valuable bicycles.
"Specifiers agree that one of today's biggest challenges is maximizing available space, whether it's an interior or exterior application," said Michael Arvidson, Duo-Gard's executive vice president. "Securabike's innovative, high-quality products will strengthen our strategies in design, space planning and security for bike parking and storage, whether the location is a college or corporate campus, a city or a residential area."
One of the world's largest providers of bicycle parking equipment, Securabike is a division of Leda Security Products, founded in 1995. The company's products include bike racks, lockers, repair stations and cages. Securabike is expanding its reach into several new markets, including North America.
"Our research revealed that Duo-Gard is one of the best in the country," said Securabike CEO Richard Matthews. "We view this collaboration as the perfect complement for providing architects and property managers with solutions for the exciting yet challenging growth of bicycling in commuting and recreation."
About Duo-Gard Industries Inc.:
Duo-Gard Industries Inc. is a leading innovator in high-performance translucent daylighting systems and architectural illumination, as well as custom canopies, shelters and outdoor structures. For over 30 years, Duo-Gard has advanced translucent technology with design, engineering, fabrication and installation of custom architectural products that enhance sustainability. Duo-Gard was established in 1984 and is based in Canton MI. For additional information, please visit http://www.duo-gard.com.
Duo-Gard Industries
40442 Koppernick Road
Canton, MI 48187
+1 734-207-9700
Contact
Julie Mead
Telephone
+1 810-623-0561
Email
jmead(at)duo-gard(dot)com