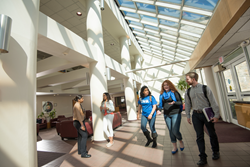 NEW ROCHELLE, N.Y. (PRWEB) December 08, 2015
Furthering its mission of providing exceptional educational opportunities in the Catholic and Ursuline tradition, The College of New Rochelle (CNR) announced today that its Board of Trustees has unanimously approved the decision to transition the School of Arts & Sciences to a coeducational model. The School of Arts & Sciences, which has enrolled only women since its founding, will welcome men in the fall of 2016.
The College is already largely coeducational, in that its other three schools– the School of Nursing, the School of New Resources (for adult learners) and the Graduate School – have been admitting both women and men since the 1970s.
"This decision was made after very careful thought, evaluation of several key factors, and above all with a great reverence for the College's mission, rooted in its Catholic identity, inspired by its Ursuline foundation, and expressed through more than 100 years' commitment to women and educational excellence," said Elizabeth LeVaca, Chair of the Board of Trustees, The College of New Rochelle.
"We are excited about the future for both the School of Arts & Sciences and the College as a whole, and we are profoundly grateful for the support, wisdom, and thoughtful guidance received from the College Community," said LeVaca. "Throughout the process, the feedback received was clearly supportive of this new model for the School of Arts & Sciences."
The higher education landscape has changed dramatically since The College of New Rochelle was founded in 1904 when women did not have the same access to education as men. However, with many more options available to women today, less than 5 percent of high school women will apply to single-gender colleges. In addition, of 230 colleges open exclusively to women in 1960, more than 80 percent have since closed, merged, or become coeducational.
"For 111 years, The College of New Rochelle has been an innovative, dynamic, contemporary and values-based institution that has nurtured the personal and intellectual advancement of more than 15,000 women in the School of Arts & Sciences," said Judith Huntington, President of The College of New Rochelle. "We are eager to have this opportunity to do the same for many more women and now men. This change is just part of a comprehensive strategic plan to advance and expand our academic programs, technology, and facilities. Supported by $14 million in federal grants, initiatives already underway include renovations to science labs, strengthening STEM programs, augmented library services, and expanding programs in the health professions."
This decision was made after a collaborative, community-wide evaluation process that included very careful consideration of enrollment trends, market research, and robust feedback from over 1,000 members of the College Community, including the Ursuline Community, students, faculty, staff, and alumnae/i.
"For over 160 years in New York State, the Ursulines of the Eastern Province have been educating both girls and boys, women and men," said Sr. Ann Peterson, O.S.U., a CNR alumna and member of the Board of Trustees. "In the spirit of our edict, 'A Mission for Service – A Vision for Change,' we also embrace this transition for The College of New Rochelle to become fully coeducational and to further expand its mission to serve."
Plans are underway to introduce men's sports to the College's NCAA Division III athletics program in the fall. "With the introduction of men's sports, we will build on our success in women's athletics over the last several years, which has included three consecutive conference volleyball championships," says Jay Butler, Director of Athletics at The College of New Rochelle. "This fall, we will field Division III men's basketball and swimming teams and introduce volleyball and soccer club sports with plans to raise them to varsity status the following fall."
"As a historian, I am constantly figuring out ways to understand the present by using the past," said Amy Bass, Professor of History at the School of Arts & Sciences. "As The College of New Rochelle makes the transition to a coeducational School of Arts & Sciences, I look forward to ensuring that our mission regarding the education of women remains central to what we do."
"Before such a decision was even brought to the table, an immense amount of information was collected and thoroughly analyzed. The opinions of CNR's most critical stakeholders have been deeply considered and overall, there have been feelings of support and excitement for what is to come," said Michelle Goyke SAS'16, who is editor-in-chief of the CNR student newspaper, Tatler.
CNR's mission and Ursuline tradition compel us to seek the best contemporary expression of the College's continued commitment to women. "The College of New Rochelle has a long history of empowering women for leadership roles and we remain steadfast in this," said Huntington. CNR will establish an institute for women's leadership and social justice, uniting all four schools to address matters of social justice, including ethical leadership, and will support and further strengthen our curriculum in women's studies and the College's mission and identity.
"Together, we move forward with great faithfulness to our Ursuline heritage, embracing the ongoing transformation of The College of New Rochelle," said Huntington.
About The College of New Rochelle
The College of New Rochelle is ranked by U.S. News and World Report in the Top Tier among Regional Universities in the north and is among the Top 10 in New York and the Top 100 in the nation among Washington Monthly's Master's Universities. Recognized as a "Catholic College of Distinction," it has been named for five consecutive years to the President's Community Service Honor Roll, the highest federal recognition a college or university can receive for its commitment to volunteering, service-learning, and civic engagement. Founded in 1904 by the Ursuline Order, The College of New Rochelle comprises four coeducational schools: School of Arts & Sciences, School of New Resources (for adult learners), School of Nursing and Graduate School. The main campus of the College is located in lower Westchester County, 16 miles north of New York City. The College maintains seven locations for the School of New Resources in Brooklyn, Co-op City, the South Bronx, Harlem, New Rochelle, Yonkers and at DC-37 Union Headquarters in Manhattan. Visit the College's website at http://www.cnr.edu.