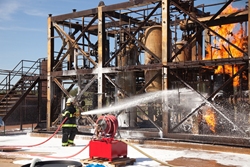 Mobile, AL (PRWEB) December 09, 2015
The Hiller Companies is proud to announce its USCG approval of their Hose Reels to include SOLBERG® ARCTIC™ 3x3% ATC™ foam. While Hiller has partnered with Solberg on other foam options, adding this Foam Fire Fighting Station approval offers customers a third manufacturer to supply the devices in addition to ANSUL® and National Foam.
"We have partnered with Solberg on other foam products," Marine Products Manager Jorda Elliot said. "We are excited to work with them and strengthen our relationship because they offer a strong fire-fighting foam product portfolio, including environmentally friendly RE-HEALING™ foams."
There are not many foam manufacturers, especially manufacturers of marine foam, so getting this approval is a welcome addition to Hiller's marine offerings, according to Elliot.
The Foam Fire Fighting station was designed by Herbert S. Hiller and is a reliable system capable of controlling fires and spills of flammable and combustible liquids. One person can fully operate the device with the necessary speed and effectiveness to deliver foam to the required area in an emergency. This self-contained unit requires only water pressure to operate and is designed for installation in a fixed location such as processing, storage or handling areas.
"With a limited number of manufacturers offering marine foam, adding another strong business partner, like Solberg, helps us meet our clients' needs in a timely and cost effective manner," Elliot said. "We couldn't be happier to add Solberg to our team."
The Hiller Companies offers fire protection products and services that are preserving lives and property all around the world. Headquartered in Mobile, Alabama, Hiller extends its reach globally as well as in domestic markets with offices in Alabama, Florida, Louisiana, Massachusetts, South Carolina, Texas and Virginia. We are proud to safeguard everything from small businesses to nuclear testing facilities, yachts to aircraft carriers, and gas stations to offshore platforms.