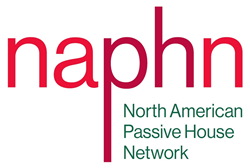 Passive House is the only building standard that delivers energy reductions upward of 90% in comparison to conventional building practices.
NYC (PRWEB) December 08, 2015
The North American Passive House Network (NAPHN) 2016 Conference & Expo: Achieving 80% carbon reductions by 2050 will be held June 13th &14th, 2016, in New York City. The Passive House building standard has garnered mounting attention among policy makers and industry stakeholders as a critical tool in making super-efficient and net-zero-energy buildings.
Passive House is the only building standard that delivers energy reductions upward of 90% in comparison to conventional building practices. Passive House building methods also provide increased comfort, high indoor air quality, and resilience in the face of high temperature fluctuations or power outages.
The global scientific community tells us that carbon emissions must be reduced 80% by 2050 to prevent the worst effects of climate change. Considering the substantial impact of buildings in global carbon emissions, Passive House is a powerful and beneficial tool. "As leaders are meeting now in Paris for COP21, to pledge action in fighting our climate crisis – stakeholders are invited to NAPHN16 in New York City in June to learn about the means and methodologies that are already proven solutions," says NAPHN Co-President, Bronwyn Barry.
New York City is a national and global leader in Passive House design and construction. During the 2015 groundbreaking ceremony of Cornell Tech's Passive House residential tower on Roosevelt Island in New York City, Mayor Bill de Blasio stated, "Passive House makes sense as a phrase, but I think it is an activist notion – a transformative notion…This is one example of how New York City can show the world a model that works in today's reality." The tower is slated to be the largest Passive House building in the world when complete.
Hosted by New York Passive House (NYPH), the local professional Passive House organization, the NAPHN16 conference will take place at the Metropolitan Pavilion, 125 West 18th Street, in Manhattan. The event will feature state-of-the-art building strategies, components, and professional development curated for professionals interested in making our low-energy building future. Ken Levenson, President of NYPH, notes "Passive House is the one proven methodology to deliver, not just the needed carbon reductions, but improved health and economic activity for all New Yorkers."
Researchers, practitioners, and vendors of leading specialized high-performance products and services from around the world are encouraged to submit presentation proposals on a wide variety of continental and global building developments - including:

Residential, commercial, institutional and industrial building types, from urban high-rise to small rural projects.
Building climates, from the arctic to the tropics
Steel, concrete, wood frame and cross-laminated timber (CLT) construction
Building science expertise and research
Public policy and affordable housing development
Integration of on-site renewable energy
Expert speakers from around the world will attend, including physicists from the Passive House Institute. The presentation submission deadline is January 15th.
NAPHN16: Achieving 80 by 50
June 13 & 14th, 2016
Metropolitan Pavilion, 125 West 18th Street, New York, NY
#NAPHN16
Contact info(at)naphnetwork.org with submissions, questions, and requests
###