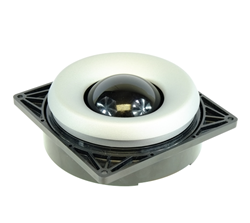 Consider a longer life optical type.....
Boca Raton, FL (PRWEB) January 22, 2016
Electrone Americas Ltd. announces its new range of optical trackballs for sale in the US and Latin America. Ideal for public, military, marine and desert environments, the new optical trackballs are ergonomic for comfortable use and fully sealed against water and dust. Electrone is the only distributor of high precision optical trackballs with Spanish language support. Trackballs are manufactured in the UK by Cursor Controls. To celebrate the launch of its new optical trackball range, Electrone is giving away free copies of its latest book, The Trackball for Industrial Use.
Stuart Thorn, president of Electrone Americas, said, "Our new range of optical trackballs is suitable for business, industry, and marine use. Electrone optical trackballs offer products specified for business and the military. Our trackballs are typically sealed up to IP65 standard giving full protection against dust and water, and are ideal for land and marine operations. High precision means we have some of the most accurate optical trackballs on the market and combined with their ergonomic design make them the ideal pointing solution for your project. "
To add this exciting new range of high quality products to their portfolio, Electrone planned and executed the following:

In 2014, Electrone approached UK-based Cursor Controls to discuss a close working partnership for the distribution of optical trackballs in US, Canada and Latin America
In 2015, Electrone developed Spanish language support for their line of optical trackballs specifically for their Latin American customers
In 2015, Electrone produced their new book, The Trackball for Industrial Use, published through McNally Jackson, New York
Electrone Americas Ltd provides high-performance computer peripheral design and manufacture to companies and organizations from a wide selection of industry sectors. Initially established in 1984 in the UK, Electrone expanded operations into the US in 1996, where their headquarters remain today.
Limited digital copies of their new book, The Trackball for Industrial Use by Electrone are available for FREE by going to:
In English: http://electrone.com/free-ebook/
http://electrone.com/products/trackballs/
En Español: http://electrone.mx/ebook-gratuito/
http://electrone.mx/productos/trackballs/
Printed, bi-lingual copies, may also be purchased at http://www.mcnallyjackson.com/bookmachine/trackball-industrial-use-stuart-thorn