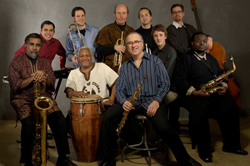 "An enduring treasure, continually re-inventing jazz in the most surprising ways. " –Jay N. Miller, Patriot Ledger
Somerville MA (PRWEB) December 09, 2015
Tickets and reservations:
http://johnnyds.tunestub.com/event.cfm?id=223895&cart
Facebook event page:
https://www.facebook.com/events/775786609217297/
When saxophonist-composer Russ Gershon formed a rehearsal band in his Cambridge MA living room during the fall of 1985, he never suspected that the group would travel the world and be performing thirty years later. Gershon simply wanted to hear great musicians realize his vision of the large jazz ensemble, influenced by Duke Ellington, Gil Evans, Charles Mingus and Sun Ra. Yet the ensuing decades unfurled an adventure in swing, bebop, avant-garde, Latin and Ethiopian jazz, producing Grammy nominated arrangements, perennial placement in critics' polls and appearances on the most prestigious stages of New York, Los Angeles, Chicago, London, Paris, Rome and beyond.
The Either/Orchestra quickly developed a reputation for presenting adventurous music in an entertaining package, delighting and challenging club, colleges and festival audiences in small towns and big cities, as well as recording a string of critically acclaimed albums. Gershon's ear for talent made the E/O a formative showcase for such future jazz stars as John Medeski, Miguel Zenon and Matt Wilson. His wide-open vision of music led to collaborations with Mark Sandman of the band Morphine, avant-jazz hero John Tchicai, jazz icon Cab Calloway. and legends of Ethiopian music Mulatu Astatke, Mahmoud Ahmed and Teshome Mitiku.
Combining razor-sharp ensemble work with hellbent-for-leather improvisations, the Either/Orchestra's show is live jazz at its finest, never predictable and always electrifying. Gershon and company dazzle, amaze and take their audiences for a wild ride. Both hard-core jazz and general music lovers take delight from this unique group.
The E/O will be releasing two albums in the spring of 2016, "The Collected Unconscious" (Accurate Records) and "The Music of Nerses Nalbandian" (Ethiopiques, Buda Musique).
Over the decades, critics have spared no superlative in their responses to the band:
"I have seen the future of big-band music, and it is this 10-piece band from Boston." -Chris Heim, Chicago Tribune
"The leading little big-band in the jazz world." -Bob Blumenthal, Boston Globe
"Worldwide, the Either/Orchestra has precious few rivals." -Tom Surowicz, Twin Cities Reader
"This amazing ensemble does just about everything right." -Richard Gehr, Village Voice
"Boston's own world-class little big band, six horns plus rhythm, has precious few rivals in exuberant eclecticism or sheer fun, whether playing original jazz tunes, interpreting pop chestnuts, or delving into Ethiopian grooves."–Kevin Lowenthal, bostonglobe.com
"One of the 40 most significant American big bands since 1945..."–Scott Yanow
Personnel:
Tom Halter: trumpet
Dan Rosenthal: trumpet
Joel Yennior: trombone
Mark Zaleski: alto sax and flute
Russ Gershon: tenor sax, soprano sax and flute
Charlie Kohlhase: baritone and alto sax
Gilson Schachnik: piano
Rick McLaughlin: bass
Oscar Suchanek: drums
Vicente Lebron: congas
plus alumni guests:
Dan Fox: trombone
John Dirac: guitar
Leo Blanco: piano
Jerome Deupree: drums