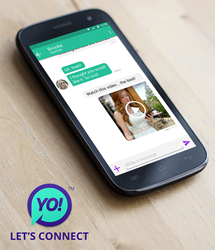 Being connected to the Internet should not be a requirement to sharing and connecting with friends.
Maple Ridge, BC, Canada (PRWEB) December 08, 2015
YO!™, a global mobile communications app, is now available for free download in the Apple App Store. Described as a cross-platform AirDrop™, YO! allows Apple users to instantly share videos, messages, pictures, documents, and more - without the reliance on Internet or data connectivity. YO! is the only app that allows sharing between Apple and Android devices.
YO! is already connecting over half-a-million Android users, including many who live in previously unconnected markets such as Bangladesh, Mexico, Guatemala, Colombia, and throughout the Middle East. YO! empowers users to share life's moments without a data plan or Internet connection.
YO! uses a proprietary and secure, WiFi-based peer-to-peer protocol to transfer files and messages with other users nearby at high speeds and 'off-the-grid'. This method eliminates the need for carrier data plans and cloud connectivity. YO! users launch ad-hoc mobile hotspots or use existing WiFi routers and access points to share with nearby users across home, office, or public networks. To communicate over longer distances, YO! has its own Internet-based messaging platform that facilitates longer distance communications.
In recognition of these capabilities, on November 25th, YO! received The WiFi Innovation Award at the 2015 WiFi Innovation Summit in Amsterdam.
"This award is designed to recognize the most innovative use of WiFi technology from new market entrants," said Guy Redmill, Managing Director, Redmill Marketing Association and Head Judge for the Award Selection Committee. "The new award celebrates the best and brightest new entrants to the world of WiFi and YO! was selected over a number of other entries based on its potential for user impact, its technical expertise, and its innovation and originality."
The new iOS version of YO! allows users to:

Share large files at high speeds between Android and Apple devices
Send and receive text and voice messages
Share photos and videos
Join any other Android-created YO! HyperNet™ or WiFi network
"Being connected to the Internet should not be a requirement to sharing and connecting with friends," said Chris Jensen, CEO of YO! and parent company Left of the Dot Media. "We already empower thousands of Android users to share meaningful digital content in parts of the globe where data allotment and network connectivity are scarce and challenging. Our launch on Apple helps bring people closer no matter where they are and regardless of which mobile platform they use."
About YO! and Left of the Dot Media Inc.
YO! made its debut in March of 2014 to address a pain felt by the app developers themselves. Our team in Bangladesh dealt with frequent Internet outages, slow speeds, and high data costs. After a year of testing in harsh, global environments, YO! for Android arrived on Google Play in the Spring of 2015. Since then, YO! has amassed over 500,000 installs and a 4.1/5.0 star rating, with over 4,000 people providing positive feedback. As a subsidiary of Left of the Dot Media, YO! maintains an office in Canada and two in Bangladesh. YO! is available in nine languages and can be accessed by visiting http://get.yo.com