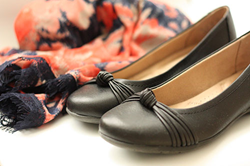 (PRWEB) December 08, 2015
"A quality pair of shoes can last for years, if properly reconditioned and cared for," said Joseph Ferriolo, Director at Wise Business Plans. "So can a company that has a strong foundation. Here at Wise, we understand that a successful, long-lasting business starts with proper planning."
Often, the soles used to repair worn shoes are of a higher quality than the original, and that can be an added value. Likewise, Ferriolo said, even an existing business can benefit from an updated business plan or plans for expansion.
"We take our clients' needs seriously and strive to exceed their expectations, and we know they treat their customers the same way," added Ferriolo. "Protecting the future earnings potential of small businesses while guiding them step by step through the planning process is what we're all about."
Wise Business Plans (http://www.wisebusinessplans.com), staffed with professional MBA writers, researchers and financial experts, is a trusted partner for businesses across a broad spectrum of products and services. Our mission is to empower our clients to make the best possible business decisions, boost company performance and facilitate their funding success by laying the groundwork for strong businesses that excite, inspire and retain talented and exceptional employees.