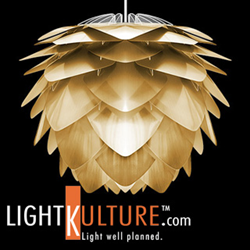 The Vita assortment is innovative and avant-garde, transforming everyday objects with a simple scandinavian design, mixed with an inventive twist.
New York, NY (PRWEB) December 10, 2015
LightKulture.com is pleased to offer affordable Danish designs from VIta Lighting. "Vita Lighting enables us to offer stylish lighting designs at very reasonable prices" noted Susan Inderbinen President of LightKulture.com. Vita was formed in 2008 by a young team of designers and architects from Copenhagen and Germany with a sense of Scandinavian style and European engineering. Vita offers creative, playful lamps and pendants with an innovative spin to the market. The key to keeping costs down is the versatility in design, where shades and bases, interchangeable accessories and cord sets, enable one design to function in multiple capacities.The black flat-packaging design saves space, materials and other resources. Not only does this securely protect the product in shipping, it also reduces waste and transportation costs. The combination of design and economics is what Vita thrives on.
Chief creative developer Soren Ravn Christensen, designers Andres Klem and Lorenzo Radaelli, along with architect Jacob Johan Wurtzen are the creative minds behind Vita Lighting.
Their combined talents in designing nightclubs and restaurants provide a unique vision that is hip and modern. The Vita assortment is innovative and avant-garde, transforming everyday objects with a simple scandinavian design, mixed with an inventive twist. The Eos Collection is a great example of repurposing goose feathers to create a one of a kind series of hanging pendants and portable lamps. Each goose feather shade comes hand-sewn onto a paper body. Once the shade is removed from the packaging, the feather slowly relax to form a soft, flowing pillow of light. The shades are easily cleaned with a hair dryer, that also gives the fixtures body and volume. The series is available as an Eos mini 14" shade, 18", 25". 29.5" and Eos XXL at 43" in diameter. The medium base socket can accommodate up to 100 watts of incandescent lighting. CFL or LED medium based bulbs can also be used. Tripod bases in white or black, can accommodate the shade in a variety of sizes as a table or floor lamp. Cord and plug swag kits, or hardwired canopy sets, available in black or white, allow the pendants to be used with or without a junction box.
For more information go to
Vita Lighting - http://www.lightkulture.com/brands/Vita-Lighting.html
Vita Lighting, Stylish, Affordable Danish Design Now Available at LightKulture.com
"My staff and II have had a lot of fun working with Vita Lighting products. While many of our product lines come from Europe or Asia, Danish products have a practicality and simple design that is unique to the Scandinavian culture. The Eos feather collection is one of the more popular items that we sell. It is easy, and economical, to add decorative lighting to any space, from a small studio apartment, to a boutique or nightclub. Vita lighting designs offer a little bit of fantasy with a unique modern flair. Another popular collection is the Silvia series. These unbreakable polypropylene and polycarbonate shades come in a variety of sizes in white, silver, copper and now Slivia gold. We are happy to recommend Vita Lighting as a reliable source that will do the job beautifully. Whether you are looking to add a design statement to your apartment, office or hospitality environment, including Vita Lighting into your interior design is the right choice. The do-it yourself nature of the brand makes it easy to assemble the product yourself. To experience this personal connection, along with the pride of installing it yourself, is the Danish way. The tailored, black flat-panel boxes with ribbon handle, make this an impressive gift for any occasion. Everyone can use a little more light in their life", noted Susan.
About LightKulture.com
At LightKulture.com, our mission is to offer the finest energy efficient contemporary lighting and light fixtures from around the world. We have assembled an exciting collection of the industry's most innovative decorative and architectural lighting.We are proud to offer lighting solutions for both your home and work-life environments. Simplicity in design is complicated, function makes it last. Be inspired by our range of essential designs from well respected American and European manufacturers. In today's world, energy efficient lighting is as important as eco-friendly or green lighting fixtures, such as LED or CFL lighting. We offer the very best energy efficient lighting and light fixtures, both high value LED lighting fixtures and CFL lighting fixtures in modern and contemporary styles that provide quality, innovation and authenticity.
LightKulture
http://www.lightkulture.com/
Email. sales(at)lightkulture(dot)com
Tel. 941-330-0422