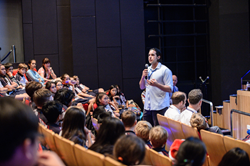 Singapore (PRWEB) December 09, 2015
8 December, Singapore: Stamford American International School (Stamford American) hosted world record holder, Andy Stumpf, in a dialogue with students on his global fund-raising drive to raise USD 1 million for the Navy Seal Foundation. Mr. Stumpf addressed over 300 students as part of Stamford American's Global Mentor Program.
The dialogue educated students on the values of teamwork, perseverance and achieving goals, detailing Mr. Stumpf's bid to raise funds for the Navy SEAL Foundation, a charity fund benefitting the families of fallen American soldiers, by setting world records in a series of wingsuit jumps. Mr. Stumpf set his first world record, for the furthest absolute distance travelled in a wingsuit (a staggering 18.26 miles) demonstrating to students, through a question and answer session, what one can accomplish with the right mindset.
Mr. Stumpf's Man on a Mission campaign on GoFundMe has raised USD 97,000 of his $1 million goal in only 3 months. In Singapore to raise awareness of this campaign, Mr. Stumpf comments on his visit to Stamford American: "There is something about the military that called out to me and I have been determined to be a Navy SEAL since the age of 11. There is no magic formula to achieving your goal. My philosophy, that helped me get through military training, is that anything is as easy as setting out your tasks and thinking of the steps to get there. I encourage this young audience to find their passion and think and plan the steps that are required to achieve their goals."
Superintendent for Stamford American, Malcom Kay, introduced Mr. Stumpf saying, "Andy Stumpf is recognized hugely by his government for his contributions to his country. He is here to tell us that even if you are young and have a dream then nothing can stop you from achieving that dream."
Stamford American's Global Mentor Program gives students access to leading global figures in the fields of business, science, social enterprise, athletics and the arts to motivate them to excel in their chosen paths. Recent mentors include former military commander and CIA director General (Ret.) David H. Petraeus, winner of the 1996 Nobel Memorial Prize in Economic Sciences, Professor Sir James Mirrlees, 2010 Nobel Laureate for Chemistry, Professor Ei-Ichi Negishi, 2009 Nobel Laureate for Chemistry, Professor Ada E. Yonath and U.S. Olympic medalists Nathan Adrian and Jessica Hardy.
About Stamford American International School
Stamford American is the first school in Singapore to offer students both the International Baccalaureate (IB) Diploma, Advanced Placement and the American High School Diploma–giving students an international experience with an American foundation. Stamford American's $300 million centrally located campus off Upper Serangoon Road has a state of the art campus, featuring 3 swimming pools, 2 indoor sports arenas, tennis courts, dance studios, rock climbing walls, a sports field and Golf Academy. Stamford American is also the !st and only school in Singapore with an Innovation Center, through a collaboration with Bloomberg and an on-campus EducationUSA Advising Centre in partnership with the U.S. Embassy for counselling services for further studies in the US.
For more information on Stamford American International School, please visit:
http://www.sais.edu.sg or call +65 66537907