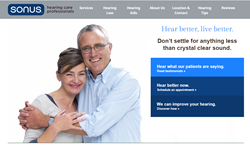 Arlington, VA (PRWEB) December 08, 2015
Communication skills are critical to success in both personal relationships and career development, and impact virtually all aspects of an individual's life. Accordingly, improving communication skills is an excellent way to start making positive life changes.
For those with hearing loss, however, communication can be a source of stress and frustration, rather than a source of satisfaction and an opportunity to connect with others. But, according to Sonus Arlington Hearing Center, hearing aids can help remove several barriers to communication that could be negatively impacting communication skills for those with hearing loss.
At the core of effective communication is effective listening. Understanding the other party is essential to establishing meaningful dialogue, and the failure to understand a message is the leading cause of argument and tension in a relationship.
Hearing loss contributes to the potential for misunderstanding by creating several distractions and barriers to effective listening, such as stress, lack of focus, misunderstanding, and lack of confidence. These distractions shift attention away from the speaker and the message and toward internal thoughts and feelings.
According to Sonus Arlington Hearing Center, hearing aids can improve communication skills by improving listening skills. Modern digital hearing aids come equipped with a host of features—such as directional microphones and background noise reduction—that can help those with hearing loss to focus on and clearly hear speech.
And without the strain of muffled hearing, the listener can focus all of their attention on the speaker and the message, resulting in enhanced confidence, assertiveness, and speaking skills.
To learn more about how hearing aids can enhance communication skills, visit Become an effective Communicator Despite Hearing Loss.
About Sonus Arlington Hearing Center
Sonus Arlington Hearing Center is a full-service audiology practice located at 2500 Wilson Blvd, Suite 105 in Arlington, VA. The practice offers comprehensive services including hearing tests, hearing aid evaluations, custom hearing aid fittings, hearing aid cleanings, rehabilitative counseling, preventive care advice, and service and repair for most hearing aid models.
Contact:
Dr. Sandra Romano
Sonus Arlington Hearing Center
http://www.sonusarlington.com
703-997-7167