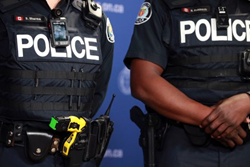 Poole, Dorset (PRWEB UK) 8 December 2015
After a very successful show at this year's Transec in December, where Reveal showcased their renowned Body Cameras and Evidence Management Software, the company will be exhibiting at the Security and Policing Exhibition in March 2016.
Designing and building award-winning smart, efficient, and secure body-worn video systems, for police, security and lone worker officers around the world, for nearly a decade, Reveal's products transform the jobs of frontline workers.
Created with the user in mind, Reveal body-worn cameras are of the highest quality, and easy to use, so that those wearing them may turn on the cameras, and record any situation, within a split second, without distracting from the task at hand.
The Security and Policing Show is the UK's premier security and law enforcement exhibition, which provides a safe platform for industry professionals from around the world, to engage with the highest levels of security expertise.
The show, which takes place at Farnborough FIVE, in Hampshire, from 8th – 10th March 2016, will see Reveal launch a new range of products, including the RS2-X2L Body Camera, and the Smartdock.
The company will be exhibiting their products with the use of a Prestige Event Stand from Poole-based exhibition stand contractors, Quadrant2Design. With seamless effect graphics, high-level branding, and integrated showcases, the modular exhibition stand creates and open enviroment that invites visitors to enter the stand and interact with the products, getting a feel for the cameras, and truly understanding how user-friendly and necessary the products are for the security of those working on the frontline.
As well as Reveal showcasing their new line of products, alongside the established, and well-revered products available currently, the Security and Policing Show will also see a series of seminars lead by industry-leaders, the 'Government Zone', with advice and information on all aspects of Government Security, and the presentation of the Security Awards.
To learn more about Reveal, their body-worn cameras, and their upcoming products, visit http://www.revealmedia.co.uk.
To register for entry to for entry to the 2016 Security and Policing Exhibition, visit http://www.securityandpolicing.co.uk.
For a complimentary design proposal from Quadrant2Design, or to find out more about their modular event stands, email designteam@quadrant2design.com or call 01202 723 500.