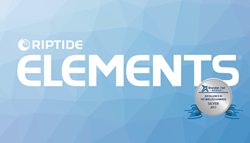 The Elements team is thrilled and very grateful to be recognized by Brandon Hall Group.
Orlando, Fl (PRWEB) December 09, 2015
Elements®, Riptide Software's configurable LMS offering that delivers to any mobile device in any language, was recognized as Brandon Hall Group's Best Advance in Learning Management Technology category. Now entering its 21st year, the awards recognize the best organizations that have successfully developed and deployed revolutionary SaaS products.
Riptide Elements® is a configurable micro-learning services architecture that can be tailored to serve today's BYOD learning and development environment needs. Elements has currently delivered BYOD training to 92 Countries in 32 Languages to hundreds of thousands of users. Elements is helping clients in a non-disruptive way to realize the full potential of the enterprise training ecosystem either enhancing or replacing any existing legacy learning management systems (LMS).
Nick Washburn, Director Riptide Learning Division stated, "The Elements team is thrilled and very grateful to be recognized by Brandon Hall Group. Our valued clients are Riptide's highest priority and we thank them for trusting us as a partner in their learning technology needs."
Philip Loeffel, Founder and CEO of Riptide Software, added, "Riptide's technology research and development has always served our clients well and these awards validate our efforts. We are excited to utilize the latest in SaaS, Amazon Web Services and xAPI to bring the most sophisticated solutions available to our customers.."
About Riptide Learning
The Riptide Learning Division brings Riptide Elements® learning products to the web/mobile international market. Elements is a flexible, scalable, and configurable platform of learning services (courseware, LRS, authoring, curriculum management, reporting & analytics, and hosting). Riptide staff members are active participants in the community developing xAPI—the benchmark in learner experience tracking.
About Brandon Hall Group
Brandon Hall Group is a preeminent research and analyst firm, with more than 10,000 clients globally and more than 20 years of delivering research-based solutions that empower excellence in organizations. Brandon Hall has world-class research, data and expertise in Learning & Development, Talent Management, Leadership Development, Talent Acquisition, and Workforce Management. Our Team leverages our ever-expanding and extensive base of research to create methodologies, tools and frameworks that unlock the value of the key practices and apply them to your organization.