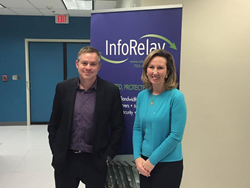 Data centers are more important to our local economy than ever before and InfoRelay is a leader in the drive to innovate.
Herndon, VA (PRWEB) December 08, 2015
Data Center and Managed Service provider, InfoRelay Online Systems, Inc., recently received a visit from Congresswoman Barbara Comstock. As a representative of the 10th District of Virginia, which includes Loudoun County, Comstock held a round-table discussion at InfoRelay headquarters regarding technology and important tax initiatives impacting data centers within her region.
Following a tour of InfoRelay's national headquarters located in Herndon, VA, Comstock sat down with the President of InfoRelay and a small group of her constituents. She spoke at length about the benefits behind a Sales & Use Tax exemption she authored and helped pass for data centers in Loudoun County. Originally passed by the Virginia General Assembly in 2009, this legislation allows large facilities that meet certain requirements to be eligible for tax exemptions on data center equipment.
Those that qualify can aggregate their capital investment and new job requirements between the data center owner and its tenants, working to attract new business and support data center growth in Virginia. The 5.3% exemption in sales tax for facilities are considered amongst the most competitive in the United States and are expected to save hundreds of thousands, if not millions, of dollars for landlords and tenants. This also works as an incentive in attracting new business development for the region.
During her visit, Comstock relayed her commitment to maintaining a pro-business environment that is responsive to the business community and provided compelling reasons for companies to continue to operate and grow within the Commonwealth. "I appreciated the opportunity to visit with CEO Russell Weiss of InfoRelay and discuss the many important issues affecting the data center industry in Virginia. Data centers are more important to our local economy than ever before and InfoRelay is a leader in the drive to innovate," Comstock explained. "InfoRelay is driving technological advancement in our District and is spurring growth of good-paying technological jobs throughout Northern Virginia."
About InfoRelay Online Systems, Inc.
InfoRelay Online Systems, Inc. delivers enterprise-level managed services and wholesale data center services to hundreds of clients, including Fortune 500 companies and federal agencies. InfoRelay improves its clients' efficiency and profitability through the company's array of reliable IT services. By demonstrating unparalleled levels of responsiveness, concern, and overall service, InfoRelay establishes a unique trusting relationship with each client ultimately acting as 24x7x365 extension of customers' IT departments. For more information, please visit http://www.inforelay.com or call (703) 485-4600.