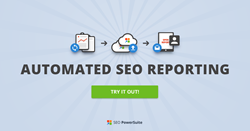 (PRWEB) December 08, 2015
Link-Assistant.Com, the industry-leading provider of digital marketing applications, announced an important update to the Enterprise editions of both SEO PowerSuite and BuzzBundle, the company's flagship products. From now on, the SEO reporting is automated end to end: from getting the latest SEO data to delivering a branded report right to a client's inbox in a personalized email. Additionally, there's also a brand new way for one to store and share reports that's easier to use than any other. The reports can be uploaded to SEO PowerSuite Cloud to instantly get a report URL to share with colleagues or email to clients. This can be done with a single click or completely automatically.
Improved reporting workflow
In the new SEO PowerSuite and BuzzBundle, one gets to choose between saving reports to hard drive, uploading them to site or a SEO PowerSuite Cloud account, emailing or printing them out.
There's an option to create a separate Publishing Profile for every customer to have reports branded and customized for each client.
Today's update allows to white-label not only reports, but also the cover letters and write completely custom emails in HTML, as well as fully automate reporting and delivery.
SEO PowerSuite Cloud for reports
SEO PowerSuite Cloud is a free service that allows one to store SEO PowerSuite and BuzzBundle reports in cloud, making them easier accessible to one's clients and colleagues via shareable links.
Reports are tuned to be shared effortlessly within the software with a single click of a button.
What's even more important, the latest SEO PowerSuite and BuzzBundle let all Enterprise users store up to 4,000 projects in SEO PowerSuite Cloud free of charge.
More information about the update can be found at SEO PowerSuite and BuzzBundle official websites. Both applications are available in Free (good for trial and occasional use), Professional (for individual site owners and small companies) and Enterprise versions (for agencies and large organizations).
About Link-Assistant.Com, SEO PowerSuite and BuzzBundle
Link-Assistant.Com is the software company behind SEO PowerSuite (SEO software) and BuzzBundle (social media management software). The company's mission is to provide the digital marketing community with tools with the most advanced functionality at the most affordable price. In October 2015, SEO PowerSuite was named finalist for the recognized US Search Awards in the category 'Best SEO Software'.