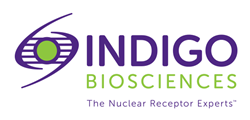 We are excited to add Gene Expression Services to our portfolio. It represents a significant expansion opportunity and enhances our industry leading position in nuclear receptor research
State College, Pennsylvania (PRWEB) December 10, 2015
INDIGO Biosciences, the recognized industry leader in nuclear receptor research, has expanded its offerings to include unparalleled nuclear receptor-centric gene expression research services.
Any nuclear receptor can regulate hundreds of genes. Changes in the expression of nuclear receptor targets control the progression of metabolic disease, hypertension, inflammation, bone density, reproductive disorders, and cellular differentiation. Gene expression is a widely used approach for characterizing biological perturbations, defining the molecular mechanisms of diseases to assist in making critical decisions about efficacy as well as risks associated with compounds of interest.
INDIGO's highly-trained specialists provide a comprehensive offering of genomic services including qPCR services and microarray analysis starting with client samples or utilizing cell-based model systems. Indigo will help you identify the appropriate technology, experimental design and program goals to ensure that your needs will be met.

INDIGO's expertise offers the unique ability to specifically interrogate nuclear receptor-mediated events through the use of predesigned and optimized panels of primers, giving biological insights unlike anyone else in the industry
Expertise in gene selection for disease and pathway-specific studies including cancer, diabetes, and drug metabolism-related gene expression
Provides crucial data on mRNA levels, statistical analysis and interpretation in a detailed study report.
"We are excited to add Gene Expression Services to our portfolio. It represents a significant expansion opportunity and enhances our industry leading position in nuclear receptor research" says Dr. Jack Vanden Heuvel, Chief Scientific Officer.
About INDIGO Biosciences, Inc.
INDIGO Biosciences was founded in 2005 in State College, Pennsylvania, and has established itself as an industry-leading provider of both products and services focused on nuclear receptors. INDIGO offers both screening services and assay kits for the pharmaceutical, biotechnology, agri-business, nutriceutical industries, as well as government research agencies and academic researchers.
For more information on INDIGO's products or services, please visit indigobiosciences.com