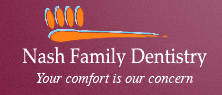 Vicksburg, MS (PRWEB) December 08, 2015
People with damaged or missing teeth in Vicksburg, MS, are now invited to visit Dr. Kenneth Nash for various restoration procedures, which may improve their smiles and overall oral health. Dr. Nash offers crowns and dentures supported by dental implants, providing a durable, healthy solution to tooth loss. Both of these restorations are anchored to titanium studs that are placed within the jawbone, facilitating improved security and performance for dental health.
Dental implants have been proven as one of the most reliable and effective solutions to remedy tooth loss. According to the Centers for Disease Control and Prevention, more than half of adults between ages 20 and 64 have lost at least one tooth, and almost one in five adults over the age of 65 have lost all of their natural teeth. Dr. Nash is creating more accessibility for implant-based restorations as a solution to the most prevalent forms of tooth loss. Individual implants can support a single crown, while All-on-4® implants anchor an entire denture with just four implants.
Dr. Nash assists those who have been affected by missing teeth in Vicksburg, MS, with the intricate steps of the implant planning and placement process. Initially, Dr. Nash will capture impressions of each patient's teeth to create customized crowns, bridges or dentures, which may eventually attach to the implants. Dr. Nash then refers patients to oral surgeons for the implant procedure. Following implant placement, patients are appropriated three to six months of healing time to integrate titanium studs within the bone. Dr. Nash supervises this healing process, as well as the eventual attachment of the crowns, bridges or dentures.
Patients who receive restorations, that utilize dental implants, can expect various health benefits. Individual implants stabilize the alignment of adjacent teeth, while also preventing the jawbone from deterioration, following tooth loss. Additionally, implants may reduce the risk of malnutrition by supporting a healthy diet. Given these benefits, Dr. Nash encourages patients with missing teeth in Vicksburg, MS, to seek candidacy for implants as a potential option. Patients can schedule consultations by calling Dr. Nash's office or visiting his website.
About the Practice
Nash Family Dentistry is a general practice offering personalized dental care for patients in Vicksburg, MS. Dr. Kenneth Nash and his team provide patients with the latest in dental technology in a comfortable and welcoming environment. Dr. Nash offers a variety of services including laser dentistry, dental implants, and cosmetic dentistry services, among others. To learn more about the services offered at Nash Family Dentistry, please visit the website at http://www.vicksburgdentist.com or call (601) 634-1812 to schedule an appointment.