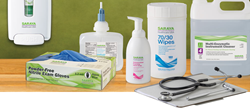 Saraya Healthcare USA takes infection control very seriously.
Nevada City, CA. (PRWEB) December 09, 2015
Saraya Healthcare USA has launched a new website, product line, and on-line store geared at helping dental offices, surgical centers, specialty clinics, healthcare facilities, and homecare providers lower the risk of cross-contamination. Infection control centers around the practice of minimizing and controlling the spread of infection through cross-contamination. Cross-contamination is the migration of harmful pathogens from one surface to another, or from one person to another. Proper hand hygiene and surface hygiene are key in controlling the spread of infection in the aforementioned healthcare environments.
Saraya Healthcare USA offers specialized hand hygiene, surface hygiene, instrument cleaning products and nitrile, powder-free exam gloves for small to medium sized facilities. Stacey Dalton, Account Manager for Saraya Healthcare USA states, "Saraya Healthcare USA takes infection control very seriously. We want to help healthcare organizations improve their infection control programs by providing superior products, guidance and service."
Hand Hygiene:
The CDC states: Clean hands are the single most important factor in preventing the spread of pathogens and antibiotic resistance in healthcare settings. Saraya Healthcare USA recognizes that proper hand hygiene is the number one defense against the spread of disease, and offers a variety of high-quality hand soaps and hand sanitizers. The hand soaps come in three different styles, and are available as standalone countertop pump bottles, or as dispenser compatible cartridges. The hand sanitizers come as a spray or foam, and are also available as countertop bottles or dispenser compatible cartridges. These different styles are designed to meet the individual needs and preferences of healthcare practices. The dispensers also come in different styles and can be placed on a counter or mounted on the wall. The wall mounted dispenser is available as a manual or a touchless model for hands-free operation. Last, but not least, a fragrance-free hand lotion helps keep hands soft and healthy, further reducing the risk of infection from dry, cracked hands.
Surface Hygiene:
Some pathogens can live on inanimate objects for up to 8 hours, so it's critical to keep the hard surfaces in a healthcare setting clean. Saraya Healthcare USA offers a tried and true 70/30 (70% isopropanol/30% purified water) surface cleaner as a spray and as a convenient wipe, designed to quickly clean counters, cabinets, trays, phones, door handles, hand rails and any other high-traffic/high-touch areas.
Instrument Cleaning:
Saraya Healthcare USA offers three instrument cleaning products: a pre-wash spray that helps make clean up easier, an all-purpose enzymatic cleaner for manual cleaning, ultrasonic and jet washers, and a powerful multi-enzymatic cleaner for soaking and ultrasonic cleaners, which features a four-enzyme formula for superior cleaning.
Nitrile Exam Gloves:
Finally, Saraya Healthcare USA carries powder-free, nitrile exam gloves in the most popular thickness and sizes – 2.7 mil and 3.2 mil. These are high-quality, single-use gloves that are not made from natural rubber latex, and perfect for a wide variety of uses in the healthcare field.
Introductory Offer:
Saraya Healthcare is inviting healthcare professionals and homecare providers to visit their new website, and is offering new customers a 10% discount on their initial order of $75 or more. Please visit: http://sarayahealthcareusa.com/2015-launch/