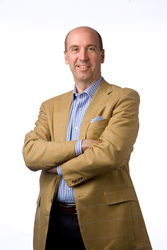 Offered in the spirit of light-hearted fun, these predictions are not intended to be taken literally--they merely reflect broader trends that one can expect to see in the coming year.
San Francisco, CA (PRWEB) December 10, 2015
Trend expert and best selling author jack Uldrich says, "If a futurist tells you he can predict the future. Run like Hell-- because they are lying. No one can predict the future." As someone who dubs himself as a global futurist, Uldrich says with good nature, what he, and others can do, "is to look at, and assess, the coming trends then give my clients the best advice on how to leverage those trends."
Uldrich's latest article A Futurist Predictions for 2016 is a tongue and cheek look at the actual trends that will be on the rise in New Year. From 3D-printed clothing, augmented reality ads, and cyptocurrencies, to self-driving golf carts, gene-edited pets, Li-Fi, jetpacks and drones, Uldrich has his finger on the pulse of technological advances that will undoubtedly enhance our world over the next 12 months.
Not to be taken literally, Uldrich predicts such events as Jennifer Lawrence wowing the fashion world as she strolls down the Red Carpet at the 2016 Academy Awards ceremony in a stunning orange dress. While the dress looks, feels and flows silk it will actually be material manufactured using 3D printers and biodegradable plastic. Uldrich adds that, "customized replicas of the dress will be shipped to adorning fans only 12 hours after the conclusion of the 2016 Oscars."
Touching on the hot trend of cryptocurrancy, Uldrich created a scenario surrounding the unconfirmed rumors of FedCoin. "To the consternation of many Libertarians, the federal government announces the creation of its first ever cryptocurrency, FedCoin. Designed to prevent fraud as well as facilitate peer-to-peer exchanges, the development will be met with a curious combination of skepticism and optimism among people who follow such advances."
Uldrich also predicts Wi-Fi will go "Bye-Bye" in the Bay area with the uptake of Li-Fi. And his most hilarious post, unless you happen to be an ardent fan of garden gnomes, is listed in his 10th prediction regarding the use of drone delivery systems.
Highly acclaimed for keynote speeches delivered around the world, Uldrich paints vivid pictures of what the world might look like in just a few short years for audiences in the health care, agriculture, education, energy, finance, retail and manufacturing sectors. A best-selling, and award-winning author of 11 books, Uldrich's "Win the Future: The Big AHA" is set to be released later in 2016.
Readers interested in Uldrich's speaking engagements and recently posted list of the top 5 books for 2015 and top 10 tech trends are encouraged to view his website.