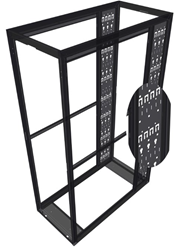 Farmingdale, New York (PRWEB) December 09, 2015
"Over the past few years, we have seen a growing demand for cabinets that are larger and stronger than ever before," said Michael Mallia, Founder and CEO of AFCO Systems, a leading manufacturer of data cabinets based on Long Island.
"Many of our customers are asking us to ship cabinets to third party systems integrators, who load the racks with IT equipment and network cabling. These pre-configured systems are then crated up and delivered to massive data centers where they are rolled into place, plugged in, and fired up," Mallia explained.
"The AFCO engineering team was challenged to design a cabinet that could be packed full of more gear than ever before. Every inch of available space had to be available for use. We were literally challenged to find a way to put ten pounds of stuff in a nine pound bag."
The AFCO Systems team was also aware that the cabinets they built would now be shipped full of IT equipment worth hundreds of thousands of dollars. The cabinet and its contents had to arrive fully intact, every time!
The solution? The Titan T6 Server Cabinet. Titan is built using a fully welded, six post, tubular frame. The six post design (as opposed to the usual "four corner post" design) adds rigidity to the cabinet, which boasts a dynamic load capacity of 3000 pounds. The positioning of the additional pair of vertical posts also creates a "cable management channel" This unique design incorporates integral "Power and Cable Management Channels" on either side of the cabinet, just inside the rear door. The "PCM" accommodates the massive amounts of cabling associated with a high density cabinet by allowing every precious inch of space to be fully utilized.
"The cabinet frame is 24 inches wide, and our customers can now utilize the entire 24 inches of width for power and cable management. My design team out did themselves again. The Titan T6 is really a beauty and a beast," concluded Mr. Mallia.
Titan T6 is available in 42 or 48 inches deep and in several heights. The more common configurations are available as part of AFCO's new READY SHIP program, which was implemented to get cabinets delivered to customers all over the USA faster than ever before.
Titan T6 is currently available for shipment. Contact AFCO Systems Customer Service for details or go to titan.afcosystems.com for additional info.