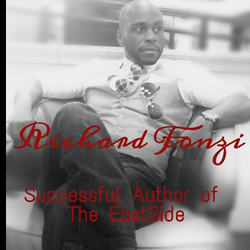 Romeo + Juliet meets Boys in the Hood meets The Outsiders
Orlando, FL (PRWEB) December 25, 2015
Romeo + Juliet meets Boys in the Hood meets Gangs of New York.
The East Side is about "Love, Revenge, Hate and the Division" people place themselves on even when they live on the same soil.
This is an "Urban Gangsta Romance" Novel that is very well written and well performed.
Orlando is known for its tourist attractions and parks but not for the real people that live in it. This is a story representing the side of the Mickey Mouse land that people do not get to see. The East Side is about real people, even though the story is fiction, the characters are not. Characters are based on real people the Author has known in his life; Jahvon's story is very relatable because of the growing pains of growing up without the proper guidance and the situations people place themselves in because of what is not known or what people choose not to pay attention to.
The Moral of the story is love is stronger than the hate people place on each other and most of time people hate each other without having a real reason why.
Part of the earnings for this Novel will be given to an Orlando Urban Youth Foundations called the LiaVonni Dance Foundation to help young minorities stay out of trouble and be more productive.
This is a Novel in Paperback, eBooks and AudioBook.
Support a young black man trying to make a difference in his own community.
Thank you for your support.
Author Richard Fonzi
Published by Darebooks.
Playground Entertainment.