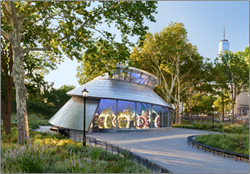 New York, NY (PRWEB) December 08, 2015
The Battery Conservancy announces that SeaGlass Carousel, New York City's newest one-of-a-kind, permanent cultural attraction that features 30 grand luminescent fish in a monumental nautilus shell, has attracted over 100,000 riders since its opening in August at The Battery, the 25-acre public park at the southern tip of Manhattan. Due to popular demand, the Conservancy has extended operating hours for SeaGlass Carousel. From Monday, December 21, through Saturday, January 2, SeaGlass will be open 10 a.m. – 10 p.m. In January and February, SeaGlass will be open on Saturdays and Sundays, 10 a.m. – 6 p.m., weather permitting. SeaGlass will also be open on Monday, January 18 (Martin Luther King, Jr. Day), and Presidents' Week, February 15-19.
"We are thrilled to have shared the magic of SeaGlass with over 100,000 riders," said Warrie Price, president and founder of The Battery Conservancy. "SeaGlass Carousel offers a completely unique theatrical experience that delights and inspires visitors of all ages – from children on playdates to adults out for date night. Its tremendous success marks a major step forward in plans to revitalize The Battery, as it recaptures its place as a major cultural destination in the city."
After more than 10 years in development, SeaGlass opened to the public on August 20, bringing art, architecture and music to visitors of all ages. SeaGlass was conceived by the award-winning WXY Architecture + Urban Design as a carousel recalling The Battery's history as the original home of the New York Aquarium. WXY then designed a spiraling pavilion of glass and steel inspired by the chambered nautilus. The magnificent fish figures – as large as 9 ½ feet wide and 13 ½ feet tall – were designed by the internationally acclaimed George Tsypin Opera Factory. Unique among carousels worldwide, SeaGlass mechanicals lie under the floor – allowing full visibility across and around the shell, with no center post – and visitors sit within the figures rather than atop them. Instead of "riding" the fish as one would on a typical carousel, visitors "become" fish while gliding through the sights and sounds of a 360° aquatic adventure. Tiffany & Co. Foundation Woodland Gardens encircle the carousel.
For updates on changes to operating hours, please follow The Battery Conservancy on Twitter and Facebook. Admission to SeaGlass Carousel is $5 per ride. Access to The Battery is free and open to the public.
About The Battery Conservancy
The Battery Conservancy was created in 1994 as a not–for–profit educational corporation to rebuild and revitalize The Battery and its major landmark, Castle Clinton National Monument. The Conservancy spearheads this dramatic transformation in partnership with City, State and Federal governments and with individuals, corporations and foundations in the private sector. Visited by 6 million people each year, The Battery remains one of the oldest public open spaces in continuous use in New York City. The Conservancy honors and preserves its heritage by rebuilding the park with sustainable design and ecological practices while respecting and interpreting its rich history. The landscape design protects the natural environment while meeting the needs of a growing residential population, crowds of bustling commuters, and the millions of visitors who come to see the Statue of Liberty and experience New York Harbor. For more information, visit http://www.thebattery.org/.