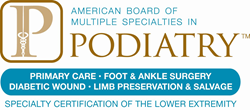 We see quite an increase in patients presenting with foot pain at this time of year.
New York, New York (PRWEB) December 09, 2015
With holiday shopping, cooking, and entertaining in full swing, many Americans are increasingly at risk for aggravating—or even developing—common disorders of the foot or ankle. Increased standing and walking, combined with heavy obligations, decreased time, and frantic schedules may lead some people, especially those who already suffer from foot pain, toward risk factors that can dangerously worsen pain and symptoms. The American Board of Multiple Specialties in Podiatry (ABMSP) urges holiday revelers to pay close attention to existing foot disorders and to watch for new symptoms in order to ensure healthy, pain-free feet throughout the holiday season and beyond.
The National Retail Federation studies data from the Bureau of Labor Statistics to better understand just how much money—and how much time—Americans spend shopping during the holiday season, which includes Thanksgiving, Christmas, Hanukkah, and Kwanzaa. In 2014, clothing stores saw more than 22 percent of their total annual revenue come during the months of November and December. Holiday shoppers spent more than $40 million at clothing stores during the 2014 holiday season, up from $38 million in 2013. The Federation is anticipating that 2015 holiday sales will increase an additional 3.7 percent. And given the fact that Christmas Day falls on a Friday this year, the weekend after Christmas will likely be one of the busiest of the year, according to NRF predictions.
All this holiday preparation—much of it involving shuffling through crowded stores and malls in shoes unsuited for long walks—is hard on feet. Plantar fasciitis, heel spurs, poorly-fitting shoes, injuries, or diseases such as diabetes are frequent causes of foot pain, and each of these conditions can dramatically worsen during the bustle of the holiday season. The ABMSP recommends preventive or clinical treatment under the care of a podiatrist who is board-certified in podiatry, especially in the areas of foot and ankle surgery, primary care, diabetic foot wounds—and now in the emerging field of limb preservation and salvage.
"We see quite an increase in patients presenting with foot pain at this time of year," said Caroline Tiglio, D.P.M., Diplomate of the American Board of Multiple Specialties in Podiatry. "It's imperative that those in pain—especially those with chronic diabetic foot wounds—seek proper care and take measures to prevent exacerbation of existing wounds and injuries. Treatment by a board-certified podiatrist is key." Dr. Tiglio is licensed to practice podiatry in both New York and Connecticut and is certified in Primary Care and Podiatric Surgery by the ABMSP.
Medical certification, Tiglio explained, is a voluntary process in which physicians are recognized for advanced knowledge, competence, and skill. Certification requires assessment, testing, and evaluation of education and/or experience. Certification by the ABMSP is sought by podiatrists in order to attain a credential which attests to their training and experience as providers of services to persons who suffer from diseases and deformities of the foot.
"Everyone gets caught up in the energies of the season," Tiglio said. "And while that's a wonderful thing, it's also important that we care for our bodies and that we pay close attention to symptoms that may arise in our feet. ABMSP-certified podiatrists are passionate about preventing pain and advancing new standards for care. I hope to see our mission enacted vigorously throughout the season."
About ABMSP
The American Board of Multiple Specialties in Podiatry was originally organized by podiatrists for the purpose of granting board certification to office-based and ambulatory foot surgeons. Incorporated in 1986 as the American Institute of Foot Medicine (AIFM), the name was changed in 1992 to better reflect its mission. The Board now offers certification to qualified podiatrists in all areas of podiatric practice: Primary Care in Podiatric Medicine; Foot and Ankle Surgery, both in a hospital setting and in outpatient facilities; Prevention and Treatment of Diabetic Foot Wounds and Foot Wear; and Limb Preservation and Salvage. The California Board of Medicine, through the California Board of Podiatric Medicine, has authorized diplomates of the American Board of Multiple Specialties in Podiatry to advertise their certification from the Board in the State of California. Also, the Board's certification examinations have been approved for reimbursement by the VA as an educational benefit for eligible veterans. The American Board of Multiple Specialties in Podiatry is the only podiatric certification program accredited by URAC (formerly the Utilization Review Accreditation Commission) and by the American National Standards Institute (ANSI) under the ISO International Standards ANSI/ISO/IEC/17024:2003 for Accreditation for Bodies Operating Certification of Persons. For more information, visit http://www.abmsp.org.