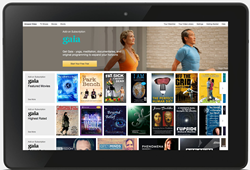 Gaia availability through Amazon is more evidence that conscious-living and mindfulness are becoming mainstream.
Boulder, Colo. (PRWEB) December 08, 2015
Gaia, the world's largest on-demand subscription video service dedicated to conscious media, today announced the launch of its content on Amazon Prime Video as part of Amazon's new Streaming Partners Program. Tens of millions of Prime viewers now have access to premium Gaia content, including personal development, inspiring films, documentaries, seeking-truth programming, yoga and meditation.
"Gaia's programming serves as a guide to personal transformations, so the ability to reach millions of people through Amazon's Streaming Partners Program is an exciting opportunity for us," said Brad Warkins, Gaia president. "It's more evidence that conscious-living and mindfulness are becoming mainstream."
Gaia recently launched as a native app on the new Apple TV in November of this year, complete with a company rebrand from Gaiam TV to Gaia.
Along with Gaia, Amazon launched the Streaming Partners Program with providers such as SHOWTIME, STARZ, A+E (Lifetime Movie Club) and AMC (Shudder and SundanceNow Doc Club).
The timing of the Amazon's Streaming Partners Program launch with Gaia offers members unlimited streaming of transformative content to share with friends and family during the holidays. For less than $10 per month, Gaia will help members kick-off 2016 with custom-curated guides to inspire a year of balanced living.
About Gaia
Gaia, previously Gaiam TV, is a streaming video subscription service offering exclusive streaming conscious-media content. Gaia's library contains more than 7,000 films, documentaries and original programs to guide its viewers on their journeys of personal growth, spirituality and seeking truth. Gaia offers members the unique capability to download content for offline viewing. Gaia is currently available on the Apple TV, iPad, iPhone, Google Chromecast, Roku, smart TVs and internet browsers. For more information, visit http://www.Gaia.com.
###