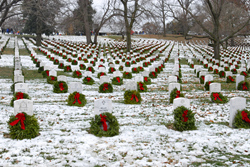 To know that he and his fellow military family and friends are recognized at this time of year brings a touch of light to a holiday season spent without the presence of a loved one
Chantilly, VA (PRWEB) December 09, 2015
This year, Northern Virginia remodeling company Moss Building and Design donated memorial wreaths to Arlington National Cemetery for their annual wreath laying. The donations for the wreaths were given in remembrance of employee family members and spouses who have served in the military. The initiative, which was spearheaded by Community Relations Manager Jenn Zschunke, honored those lost in the time honored tradition.
The tradition of laying wreaths in Arlington National Cemetery has been around since 1992 when Morrill Worcester, owner of Worcester Wreath Company, donated a surplus of wreaths to a section of Arlington Cemetery that had been receiving fewer visitors through the years. In 2005, a picture of the wreaths went viral on the internet, bringing national attention to the efforts to honor veterans. Today, the wreath laying is supported by the non-profit Wreaths Across America who were able to reach their goal of 30,000 wreaths this year, though donations were slow to start.
Moss Building and Design made a donation in honor of those who have served our country and loved ones who are no longer with us. Community Relations team member Pam Kopiak, whose father served in the US Air force, is happy about the donation. "Being able to take part in this Wreaths Across America event means a great deal to me as my father was laid to rest at Arlington National Cemetery. To know that he and his fellow military family and friends are recognized at this time of year brings a touch of light to a holiday season spent without the presence of a loved one."
The employees and family members they dedicated their wreaths to are listed below.
Arlington National Cemetery Wreath Laying Sponsorships:
Captain Richard James Fetgatter, US Air Force
--Pam Kopiak, Community Relations
Major Gerald A. Keene, USMC
--Bob Keene, Project Manager
Helen Amelia Floyd (spouse)
-- Terry Brown, Turn-Key Technician
Commander Philip C Davenport, US Navy
-- Brittany Masters, Operations Manager
Lieutenant Colonel John B. Mallon, Army and Audrey Mallon (spouse)
--Michelle Moore, Service Manager and Andrew Mallon, Turn-Key Technician
Master Chief James Lloyd Gates, Navy
-- Marty Fletcher, Project Manager
Retired Major Paul H. Zorger, US Army Reserve, Jane Conklin Zorger (spouse), retired Lt. Co Ralph Zorger, US Army Reserve, Carol Piscitelli Ross (spouse)
-- Paul DesRoches, COO
Frank Lucas PFC U.S. Army, Marion Taylor Spouse, William Taylor SGT U.S. Army
-- Lindsey Taylor, People Ops and AP Specialist
About Moss Building & Design and Moss Home Services:
Moss Building & Design and Moss Home Services is an award-winning residential remodeling and home services company located in Chantilly, Virginia. As a trusted home improvement company in Northern Virginia, MOSS focuses on providing customer service that is unparalleled by any other contractors in the area. MOSS builds lifelong relationships with their customers that are centered around this trust.
Since 2001, MOSS has established a reputation for excellence in remodeling additions, kitchens, bathrooms, basements and home services throughout Northern Virginia. Their customers see them as a trusted partner, and MOSS is very proud that over 85% of their customers consider themselves 'customers for life.' Moss Building & Design has won consumer awards from Angie's List for five consecutive years and also has an A+ rating from the Better Business Bureau as well as many industry building and design awards.