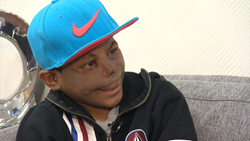 New York, NY (PRWEB) January 06, 2016
Dr. Tal Dagan, an ENT facial plastic and reconstructive surgeon affiliated with the New York Eye and Ear Infirmary of Mount Sinai (NYEE) succeeded in the total reconstruction of a nose for a burn victim, 15 year old Dalan Jennet from Majuro, Marshall Islands.
At the age of nine, Dalan, while climbing a coconut tree fell and hit a live electrical wire resulting in the complete loss of his nose, the caving in of the top of his skull, severe burns (resulting in scarring of most of the face) and significant loss of vision.
Due to the physical deformity he had endured, Dalan stopped going to school and used his home as a way to isolate himself from the people he once called friends. In an interview Dalan shared he was "afraid for people to see him." He no longer felt comfortable in his own skin.
In February 2014, while on a medical mission with Canvasback Missions in the Marshall Islands, immediately upon meeting Dalan Dr. Dagan became inspired by his story. Determined to help the young boy, he agreed to take on his case.
Upon returning to New York, Dr. Dagan shared Dalan's story with the Mount Sinai healthcare system. They too inspired donated the funds necessary to perform the series of complicated surgeries for the reconstruction.
Dr. Dagan developed a multi-step reconstructive plan of Dalan's face and nose. First, he created a physical mold of Dalan's head based off of a 3-dimensionally reconstructed CT scan and by using photos of Dalan's sisters (as no photos of Dalan existed prior to the injury). The next phase included 3-D scanning, computer aided design and 3-d printing, all donated by Oxford Performance Materials.
After eight months of planning, a model of Dalan's nose was constructed and deconstructed into parts for the purpose of molding human cartilage to it. After this, Dr. Dagan was ready to implement his plan to begin the reconstruction.
Canvasback Missions graciously took on the task of raising and contributing monies for Dalan's transportation and stay in New York.
Dagan began reconstruction of the nose with the assistance of NYEE's facial reconstructive surgeon Gregory Mashkevitz, MD, by replacing the badly burnt scar tissue on Dalan's face with healthy tissue from his thigh. By utilizing innovative laser fluorescence imaging technology, enabling the visualization of small blood vessels in real time, Dr. Dagan was able to reutilize the removed scar tissue. He did so by using the laser to create a new lining for the inside of Dalan's nose with the scar tissue removed from his face. This new lining was an essential component in restoring Dalan's sense of smell. 3-D printed design parts made out of a medical grade implant material were used as templates for donor harvested cartilage in reconstructing the cartilaginous parts of the nose, while tissue from the forehead was used to create the external cover for the "new" nose. Finally, Dagan lifted Dalan's scalp, reshaping his skull with powdered bone and titanium mesh, to reestablish the normal contour of his skull.
"This is complete science fiction," Dagan said. "We're developing a completely new type of technology that can help to change surgical concepts and help reconstruct body parts more accurately. In the future we can use this new method to treat wounded soldiers returning from the battle fields with similar injuries".
NYEE Eye surgeons contributed concurrently in correcting Dalan's vision using the latest laser technology, bringing him from near legal blindness to 20/20 (perfect) vision.
After four extremely complex surgeries totaling approximately 36 hours, Dalan was finally ready to return to the Marshall Islands with a new nose, the ability to smell and perfect vision!
As a direct result of Dagan's innovative 3-d bioprinting technology, Dalan's face, skull, nose and most importantly, his confidence have been restored.
During an interview, Dalan was asked what his favorite smell is now. His response: "I like to smell everything," he said. His favorite? "Pizza," "Pepperoni."
Dalan has returned to his home in the Marshall Islands where Canvasback Missions has helped raise funds to pay for private school and tutoring. Dalan's transformation has afforded him the ability to live his life as a normal and happy teenager.
Dagan MD is a premier medical practice located in midtown Manhattan that offers facial plastic and reconstructive cosmetic surgery. In addition to this, the practice also provides ENT services (via a sinus and allergy center) as well as hearing and balance services. Some key procedures provided are Balloon Sinuplasty, (the latest breakthrough in long lasting relief from sinusitis) facial rejuvenation as well as providing the latest innovations for the treatment of hearing and balance related problems. Doctor Dagan also offers cosmetic procedures including, face lifts and eye lid/lift surgery, rhinoplasty, liposuction and minimally invasive treatments for aging skin such as Botox, facial fillers, fat transfers and stem cell therapies.