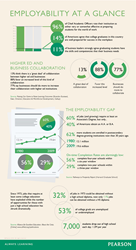 New York, NY (PRWEB) December 08, 2015
According to a Gallup study, while 96 percent of Chief Academic Officers rate their institution as either very or somewhat effective at preparing students for the world of work, only 11 percent of business leaders strongly agree graduating students have the skills and competencies that their business needs. In an effort to help bridge the gap between higher education and the workplace to increase the employability of graduates, Pearson has established its Employability Advisory Board (EAB). Leveraging the expertise of leaders from education, industry and government, the EAB focuses on key issues facing employers and learners, and explores innovative solutions that increase the employability skills of learners.
The 16-member board includes representatives from organizations, such as the Marriott Hotel's Carla Monterroso, UpSkillAmerica.org's Jaime Fall, Ohio Department of Education's Linda O'Connor, and the National Restaurant Association's Sherman Brown.
"The skills gap is a complex challenge that will require multi-faceted, collaborative solutions. It requires shifts to be made in how students are prepared for a dynamic global economy, shifts to be made in the public's perceptions of occupations and industry, and the forging of new partnerships with employers. It is my hope that the EAB will uncover innovative strategies to fill these critical needs," said Kimberly Green, executive director, National Association of State Directors of Career Technical Education Consortium (NASDCTEc).
One way in which the EAB's expertise will be showcased is through a series of Pearson-hosted, employability webinars, which will feature EAB members on key trends and issues. Join Kimberly Green, Ursula Renold, Head of Research Center for Comparative Education Systems at the Swiss Federal Institute of Technology (ETH), Zurich, and Jonell Sanchez, VP, Global Employability and Career Success, Pearson, for the webinar, "Global Employability Trends," which will explore global trends and initiatives with regard to employability. The event will take place on December 9th at 1:00 p.m. ET. Register to attend.
"I wanted to be a part of the EAB because I think we have an opportunity to bring together employers, educators and individuals to collaboratively develop programs that help students acquire the skills that they need, and secure the jobs they want, in order to move up the career ladders in the workplace," said Jaime Fall, director, UpSkill America.
To help learners make a successful transition into the workforce, the EAB focuses on key issues centered around the competencies for successful, long-term employment opportunities. These include core academic competencies (reading, writing, mathematics and digital literacy), occupational competencies, personal and social capabilities which includes interpersonal skills and qualities, and career knowledge and transition skills to help learners manage their careers.
"As the world's leading learning company, Pearson's Employability Advisory Board initiative aims to connect our global network of educators, employers and institutions to close the skills gap, build a better-skilled workforce that can compete globally, and create sustained employability for the leaders of the 21st century workplace," said Jonell Sanchez, VP, Global Employability and Career Success, Pearson.
To learn more about the EAB, including the complete list of board members and their biographies, visit this website.
About Pearson
Pearson is the world's leading learning company, with 40,000 employees in more than 80 countries working to help people of all ages to make measurable progress in their lives through learning. Learn more about Pearson, visit http://www.pearson.com.
Media Contact: Scott Overland, scott.overland(at)pearson(dot)com, 202-909-4520