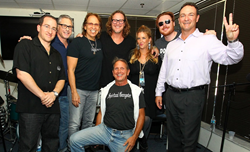 It was so great to have Candlebox here, giving back to our clients what they've learned through their tough times.
Fort Lauderdale, FL (PRWEB) December 09, 2015
Members of platinum selling rock band Candlebox spent Friday, November 13th at Fort Lauderdale addiction rehabilitation center Recovery Unplugged, and for those recovering from addiction there, Friday the 13th was their lucky day.
Candlebox's history goes back to the grunge scene in Seattle. Within three years of their formation they released a self-titled album that sold more than four million copies and hit No. 7 on the Billboard 200 chart. The record featured four hit singles including "Far Behind," "You," "Cover Me," and "Change." The biggest single "Far Behind" was a tribute to the late singer Andrew Wood of the band Mother Love Bone. Wood struggled with drug addiction and checked himself into rehab in 1989 hoping to get clean for the release of Mother Love Bone's debut album. He passed away a year later of a heroin overdose, but not before changing the entire music landscape. In 2008, Candlebox lead singer Kevin Martin told a magazine, "I wrote 'Far Behind' for Andy Wood. I was a huge Malfunkshun fan and a huge Mother Love Bone fan and I got to know Andy early on in his career when I was working in a shoe store with Susan Silver, who was managing Mother Love Bone, Soundgarden, and Alice in Chains."
Martin and the rest of his Candlebox band mates are also no strangers to addiction, each having struggled with different addictions throughout their careers. "I woke up one day and had taken money from my mother for drugs and I knew I needed to stop then."
Candlebox members performed for Recovery Unplugged's clients with singer/songwriter Richie Supa (Aerosmith, Richie Sambora, P!nk, Ozzy Osbourne and others) who serves as the center's Director of Creative Recovery, at Supa's Friday afternoon session. Supa said, "It was so great to have Candlebox here, giving back to our clients what they've learned through their tough times."
To learn more about the Recovery Unplugged Treatment Center in Fort Lauderdale, Florida, go to: http://www.recoveryunplugged.com.
About Recovery Unplugged
Recovery Unplugged® Treatment Center is an alcohol and drug rehab center in Florida that offers a rehabilitation approach that is unique and long lasting. The center combines traditional and cognitive behavioral approaches that use music in a variety of ways as a catalyst to break down defenses, inspire, and motivate the change necessary for long-term recovery and sobriety. Recovery Unplugged is committed to providing hope and healing using music, to individuals suffering from addiction all over the United States.