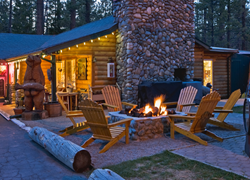 B&Bs are a great choice when you just want to get away for the weekend -- for a little romance or to explore a new destination.
Austin, Texas (PRWEB) December 10, 2015
More than three-quarters of B&B travelers are planning weekend trips to "just get away," with one out of three planning to take two weekend getaways this winter. B&B travelers are completely split when it comes to choosing between warm, sunny destinations and cold, snowy destinations for their weekend getaways.
According to the annual BedandBreakfast.com™ Winter Travel Trends survey*, the top B&B travel destinations this winter in order of preference are New York City, New Orleans, Chicago, Boston and Savannah. Rounding out the top 10 are San Francisco, Orlando, Los Angeles, Las Vegas and Key West.
More than half of B&B travelers choosing cold-weather destinations want to enjoy in-room fireplaces, while others want to relax in outdoor hot tubs (19%) and sit by outdoor fire pits (15%).
Almost two-thirds of B&B travelers will consider staying in a B&B during the holidays. Nearly eight out of 10 B&B innkeepers report they expect reservations to be up or the same this winter compared to last.
Almost eight out of 10 B&B travelers will stay in affordable accommodations during their winter weekend getaways. The majority of B&B travelers believe B&Bs provide more value than hotels (77%) and would select a B&B over a hotel if rates were the same (88%).
When planning a weekend getaway to a previously visited destination, two-thirds will choose a different B&B for new and different experiences.
"Bed and breakfasts are a great choice when you just want to get away for the weekend – for a little romance or to explore a new destination," says Lisa Westlake Chen, general manager of BedandBreakfast.com. "You enjoy a one-of-a-kind experience plus so many extras – breakfast, refreshments, WiFi and more – that make getting away very affordable."
Other B&B travel trends from the BedandBreakfast.com survey include:

Travelers' top five favorite B&B experiences:
o Character of the B&B
o Unique experiences
o Intimate quality
o One-of-a-kind rooms
o Personalized attention
The top five in-room amenities travelers desire:
o Free high-speed wireless Internet
o Distinctive rooms
o In-room fireplaces
o Luxury linens
o In-room refrigerators
The top five common-area amenities travelers desire:
o Afternoon refreshments
o Individual dining options
o Stocked pantries
o Group dining
o Onsite restaurants
Like other travelers, the majority (84%) of B&B guests prefer to book online. More than 80 percent of innkeepers surveyed take online reservations.
Four out of 10 B&B travelers are willing to pay $200-$300 a night for high-end luxury B&Bs.
Innkeepers report that baby boomers (ages 45-64) and Gen X (ages 35-44) are the most common B&B guests.
Of those planning trips for a special occasions, the majority will celebrate anniversaries or birthdays.
BedandBreakfast.com, celebrating its 20th anniversary this year, is the most comprehensive global site for inspiring, planning and booking bed and breakfast properties.
###
*BedandBreakfast.com online survey of more than 950 B&B travelers conducted in October and November, 2015.
About BedandBreakfast.com
BedandBreakfast.com, based in Austin, Texas, is the most comprehensive global site for finding bed and breakfast properties, with more than 10,000 properties worldwide, representing nearly 75,000 rooms. BedandBreakfast.com helps travelers find and book the ideal B&B or small inn through informative descriptions, photos, and more than 300,000 consumer reviews. BedandBreakfast.com offers convenient gift cards welcomed at more than 4,000 B&Bs in the United States and Canada, with no restrictions or blackout dates. It is owned by HomeAway, Inc., the worldwide leader in online vacation rentals.