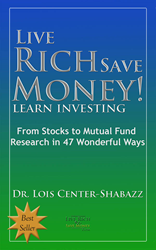 This book will help you understand how investments work and the steps you should be taking to ensure that your money is safe
Chesapeake, VA (PRWEB) December 10, 2015
CenNet Systems announces the launch of a personal finance ebook for people who want to learn investing, grow their assets and protect themselves from investment scams.
The ebook entitled 'Live Rich Save Money! Learn Investing: From Stocks to Mutual Fund Research In 47 Wonderful Ways' is another amazon book in a series of previous award-winning and bestselling books authored by Dr. Lois Center-Shabazz. It targets readers with beginner to advanced knowledge of investments who insist on protecting and growing their money and assets.
"You may not think your savings or retirement is invested in the financial markets, but chances are if you have them, they are invested in stocks, mutual funds or some other form of investment. Many investors have lost all of their savings or worst yet retirement nest egg because they did not understand a few simple rules of engagement when it comes to investments and investment advisors. You must know how the system works before you fall into an unexpected nest egg or start to make money and have the opportunity to invest in a retirement plan. This book will help you understand how investments work and the steps you should be taking to ensure that your money is safe," Dr. Center-Shabazz says.
The ebook outlines 47 detailed ways to get started with investment education and serves as a refresher course for the advanced investor, even addressing current news of market fluctuations. The information can help employees or individual investors understand their investments, including how the market reacts to certain issues. Readers will learn the difference between an IRA and a 401k, and how to read 401k statements or other investment statements. The book also details how to choose high quality, low risk investments for growth, and how to monitor investment accounts to verify how they are invested by an advisor.
Live Rich Save Money! Learn Investing; From Stocks to Mutual Fund Research in 47 Wonderful Ways is suitable for anyone who has ever had a job with a 401k plan, who wants to retire with a sizable nest egg or is seeking higher returns on savings. It is also an ideal resource for people who have inherited or may inherit money in the future, or who would like to protect themselves from investment scams.
About the Author
Lois Center-Shabazz is a long time personal finance and savings advocate, who started writing about saving money and personal finances 25 years ago. During this time, she has amassed a successful financial life after saving, investing, and taking her own advice. Dr. Center-Shabazz now writes personal finance books and articles full time, and is the author of "Let's Get Financial Savvy! From Debt-Free to Investing With Ease" published in 2002, for which she received the Pinnacle Book Achievement Award in the Self-Help category. Prior to launching her writing career, Dr. Center-Shabazz ran a successful dental practice in San Diego for several years. More financial advice as well as information about Dr. Center-Shabazz's books can be found at http://www.LiveRichSaveMoney.com