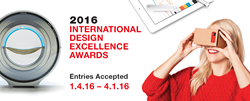 That's the power of design.... It's really about creating a sense of community and empowering people to work and do things together.
Herndon, VA (PRWEB) December 10, 2015
It's an awards competition that's ahead of the times, shining a spotlight on the designs of groundbreaking products such as the iPhone, Fitbit, Segway and Good Grips. Now, the International Design Excellence Awards (IDEA®) will mark its 36th year honoring the best in industrial design and related fields when the competition opens for entries Jan. 4, 2016.
Gold and Silver IDEA 2016 winners in nearly two dozen categories covering almost every aspect of life—from transportation to technology; healthcare to childcare; sports to social impact design—will be announced at the IDEA Ceremony and Gala on August 17 at The Henry Ford Museum in Dearborn, MI. The event coincides with the Industrial Designers Society of America (IDSA)'s 2016 International Conference chaired by Sooshin Choi, IDSA, August 17-20 at the Detroit Marriott at the Renaissance Center.
"It's great to see that projects have been getting more and more attention not just because of their aesthetics, but their essence and how they affect the world in positive ways," says Carlos Arturo Torres Tovar, designer of the IKO Prosthetic System that won an IDEA 2015 Gold and was hailed by global media for changing young lives.
The public can shop for IDEA 2015 winning products in the IDEA Holiday Gift Guide.
Past IDEA winners include a wide variety of products and experiences that have made their mark around the world, such as the first laptop; disposable cameras; cell phones; iMac; iPod mini; hybrid vehicles; and now, what have become landmarks such as the U.S. Holocaust Museum and the National September 11 Memorial Museum.
"That's the power of design," says IDEA 2016 Jury Chair Cameron Campbell, IDSA, who's worked with industry giants such as Boeing, Herman Miller, Apple, Nike and BMW. "Design is a very optimistic field for all of us to move in. And it's not about individuals. It's really about creating a sense of community and empowering people to work and do things together."
Some of this year's 25 jurors are IDEA winners who know firsthand the exposure IDEA can bring. All of the jurors are global design experts, including Patricia Moore, FIDSA—hailed by ABC News as One of 50 Americans Defining the New Millennium. "This is a serious endeavor but it's also a joyous endeavor," she says. "And it's what defines us as designers and helps us to build for the next generation to come."
IDEA 2016 Juror Owen Foster, IDSA, named IDSA's Educator of the Year in 2015, challenges entrants. "First and foremost, it's got to have a story. Show me what you've got!"
IDEA 2016 will be open for online entry through April 7, 2016. The initial entry process, with updated eligibility criteria, has been streamlined for 2016. Onsite jurying of the finalists is set for June at The Henry Ford Museum in Dearborn, MI. Questions? See idsa.org/faqs or contact Karen Foust via karenf(at)idsa(dot)org or 703.707.6000 x111.
IDEA 2016 is offering an unparalleled opportunity to reach a worldwide market. Industry Segment Sponsorship allows companies, firms and media partners to support one or more of nearly two dozen categories in which Gold, Silver and Bronze IDEAs are distributed. For more information, email Katrina Kona at katrinak(at)idsa(dot)org or call 703.707.6000 x100.
Follow the excitement @IDSA #IDSAIDEA #IDSADetroit16 on Twitter, Facebook and LinkedIn.