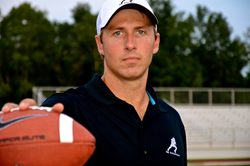 CHARLOTTE (PRWEB) December 10, 2015
National quarterback training and development company, QB Country recently expanded its program for quarterbacks of all levels to Charlotte, North Carolina. Training will begin Jan. 4 at the D1 Sports Training & Therapy center. Former Duke University quarterback, Anthony Boone will lead QB Country Charlotte training and operations.
"QB Country is excited to begin training quarterbacks in Charlotte. We expand to markets where a coach has a strong relationship with the community," said QB Country Founder David Morris, a former quarterback at Ole Miss. "Having the right people on board is crucial. Anthony is a student of the game and a talented communicator and leader. We are thrilled he will run our Charlotte location at D1."
QB Country provides year-round specialized training for quarterbacks from middle school through the NFL, focusing on the physical and mental aspects required to play the quarterback position. QB Country trainees have gone on to become recognized college and NFL quarterbacks. Former trainees include Eli Manning, Tim Tebow, Matt Barkley and AJ McCarron. Twenty QB Country trainees signed college scholarships in the 2015 high school graduating class alone.
"I'm excited to further the QB Country brand into the Carolinas," said Boone. "I'm also excited for the opportunity to give back to the Carolinas every bit of knowledge I've gained from Coach David Cutcliffe, Kurt Roper, Scottie Montgomery and David Morris." Boone is Duke University's all-time winningest quarterback and a member of the 2013 ACC Coastal Division Championship team.
QB Country partnered with D1 Sports Training in 2013 as their exclusive quarterback training company. Charlotte marks the training program's eighth location with plans to launch operations in Atlanta and New Orleans in early 2016.
"D1's relationship with QB Country is complementary as our organizations help impact and grow athletes on and off the field," said D1 Sports CEO Dan Murphy. "QB Country's attention to detail and holistic approach is what makes them the premier quarterback training program in the country."
QB Country Charlotte training will take place at D1 Sports Training & Therapy center located at 1205 Mann Drive, Matthews, North Carolina 28105. Year-round small group and one-on-one training is offered in monthly packages. For registration information, contact Boone at anthony(at)qbcountry.com. Follow QB Country Charlotte updates on Twitter. For more information about QB Country, visit http://www.qbcountry.com. Please direct all media inquiries to Josie Hankey at josie.hankey(at)fallstongroup.com or 410-420-2001.
About QB Country
Based in Mobile, Alabama with eight locations nationwide, QB Country specializes in year-round quarterback training and development for middle school, high school, college and NFL quarterbacks. QB Country offers specific quarterback training focused on proper footwork, throwing and body mechanics, as well as the mental and physical aspects of playing the hardest position in all of sports. Our goal is to educate quarterbacks on how to play the quarterback position the correct way at game speed. To learn more, visit http://www.qbcountry.com.