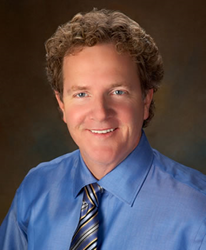 St. Petersburg, FL (PRWEB) December 08, 2015
Dr. Bruce Crawford invites patients to schedule a consultation at his practice to seek information about dental implants in St. Petersburg, FL, highly recommended for those with missing teeth. With 25 years of experience assisting patients with dental implants, Dr. Crawford seeks to inform St. Petersburg residents about the numerous benefits they can experience if they choose to receive dental implants, rather than dentures, to replace their lost teeth.
Many patients prefer to receive dental implants in St. Petersburg, FL, rather than dentures, due the nature of their intended design, which allows them to reside permanently in the mouth without the necessity of removal each day for cleaning. Additionally, dental implants do not create cumbersome or embarrassing clicking noises, as dentures may often be prone, eliminating the concern of unintended removal during speaking or interaction with others. Implants are also capable of preventing excessive bone deterioration in the jaw, stimulating regenerative properties with every chewing motion.
Patients who receive dental implants to replace their missing teeth should regard care for such prosthesis in the same manner as proper oral hygiene for natural teeth. Routine brushing and flossing is essential for maintaining the longevity of the implants, while also maintaining the health of surrounding gums. Regular dental cleanings are also vital for maintaining overall oral health, as well as aesthetic appeal and cleanliness. With proper care, the likelihood of replacement may be unnecessary.
Patients who have grown weary of the discomfort, embarrassment, and limited functionality associated with missing teeth are encouraged to seek information about candidacy, regarding sufficient bone mass to support dental implants in St. Petersburg, FL. Even individuals affected by insufficient bone mass may be eligible to receive implants after receiving prerequisite bone grafting procedures. Those who wish to schedule a dental implant consultation are invited to call Dr. Crawford's office to set up an appointment.
About the Doctor
Dr. Bruce M. Crawford is a periodontist in St. Petersburg, FL, serving as a specialist for more than 25 years. Dr. Crawford not only specializes in treating gum disease and dental implants, he has also served a clinical professor at the University of Florida for more than 15 years. He believes having a healthy mouth leads to a healthy life, and enjoys helping his patients regain their confidence through improved health. To learn more about the dental services Dr. Crawford offers please visit his website at http://www.brucecrawford.com or call (727) 231-5908.