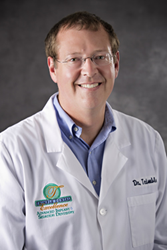 Menomonie, WI (PRWEB) December 08, 2015
Patients who need braces in Menomonie, WI, who wish to see improved results in less time, can now turn to Dr. Bruce Trimble with Trimble Dental Excellence for treatment. Dr. Trimble is now offering complimentary consultations for patients interested in Fastbraces®, an alternative to traditional braces. This new orthodontics system allows the doctor to expedite treatment for faster results.
Traditional braces are a great way for many patients to straighten their teeth. Many patients opt for standard braces in Menomonie, WI due to their high success rate over time. However, some patients want to achieve results faster, which can be accomplished with Fastbraces®. Some of the substantial differences between the two orthodontics systems include the shape of the brackets, as well as the methods utilized to straighten the teeth. Traditional braces have square brackets, while Fastbraces® brackets are triangular shaped, thus requiring fewer wires. Traditional braces typically endure an extended amount of time due to their initial focus on the roots, with a shifting focus on moving the teeth. Fastbraces® achieves both simultaneously, allowing patients to complete treatment in as little as six months, instead of between two and three years.
An added benefit to receiving this type of braces in Menomonie, WI, proves to be the incurred cost compared to traditional braces, which is relatively similar in price range. To provide easily accessible, complete oral care, Dr. Trimble offers a full range of services from general care to periodontal care and dental implants. Patients who want to ensure their teeth are receiving optimal methods of treatment are invited to contact Dr. Trimble's office to schedule an appointment.
About the Doctor
Trimble Dental Excellence is a general practice offering personalized care for patients in Menomonie, WI. Dr. Bruce Trimble offers a variety of services, including advanced dental implants and sedation dentistry. Dr. Trimble is a graduate of the University of Minnesota and has dedicated his professional career to providing you with the best that dentistry has to offer. He is continually educating himself and his staff on the newest techniques and advances to offer you state-of-the-art, antiseptic, personalized & comfortable dental care. Dr. Trimble is a fellow of the International Congress of Oral Implantologists & the Misch International Implant Institute. He is also among the few dentists in Wisconsin who are licensed for IV sedation and has received a certificate from the Temple School of Dentistry for surgical oral implantology. To learn more about the services offered at Trimble Dental Excellence, please visit their website, http://www.trimbledental.com or call (715) 802-4360 to schedule an appointment.