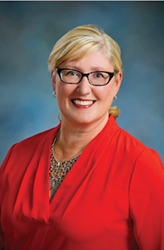 "Working with Gretchen, I have admired her ability to juggle work and motherhood." - John Hickenlooper, Governor of Colorado
Denver, Colo. (PRWEB) December 10, 2015
Long-time Colorado CEO Gretchen Gagel has just released the book "8 Steps to Being a Great Working Mom." The book is for moms who are struggling to find the time to be a great mom and a working woman. The book, by a mom on the edge of insanity, is now available on Amazon.
Written by an accomplished working mom, Gretchen Gagel started this book 12 years ago, writing on vacations and in busy airports while juggling the insanity of parenting and working. The result is a funny, honest and an invaluable resource for ALL moms. She envisioned the book as the start of a dialogue and reached out to her impressive network, gathering 25 working moms from diverse socio-economic backgrounds as contributors to the book. Each one offers personal stories and first-hand wisdom for all moms struggling with guilt and the myth of "balance" and "having it all."
A proud mother of two children, Gretchen serves as president of Continuum Advisory Group, a national management consulting firm and is currently studying for her PhD. She is the founder and president of Greatness Consulting where she devotes a portion of her time consulting to nonprofit agencies on strategy, fundraising and financial sustainability. She has also worked for Ralston Purina, Coca-Cola and FMI Corporation, and served as president of The Women's Foundation of Colorado and Assistant Dean of Daniels College of Business at the University of Denver.
"If I could share advice with all working moms, it would be to 'please lighten up on yourself.' We all make mistakes. We all have days that we feel like we're not doing any of our roles very well," said Gagel. "But we are 'great' because we work hard every day to care for our families and our companies. We are not 'perfect', but we are great."
A portion of the proceeds from this book will benefit Warren Village, a nonprofit that has transformed the lives of 4,400 low-income families, primarily headed by single women, over the last four decades. Several residents provided valuable input for this book.
"The Moms at Warren Village work so hard to ensure they can build a bright future for their children, which is, of course, what all the mothers in this book hope to do," said Sharon Knight, president and CEO of Warren Village. "We are extremely grateful that Gretchen has dedicated proceeds from this book to support vital programs at Warren Village. All proceeds will be allocated to self-sufficiency programs, including the new College to Career Program."
Brent Darnell, founder of BDI Publishers and publisher of "8 Steps to Being a Great Working Mom", is graciously contributing 33% of the profits from this book to Safehouse Outreach's Family & Women Services of Atlanta, Georgia.
Quotes about "8 Steps to Being a Great Working Mom":
"Working with Gretchen, I have admired her ability to juggle work and motherhood. Under her leadership, The Women's Foundation of Colorado achieved groundbreaking efforts on The Cliff Effect for low-income women and girls in Colorado, and yet I always saw Gretchen's kids at events and recognized the important role being a great mom played in her life." - John Hickenlooper, Governor of Colorado
"For as long as I have known Gretchen, she has been a great mom with a successful career. Many will benefit from her practical advice and I am happy she carved out the time to write this book. Gretchen tells it like it is. Most importantly, she helps us understand that we are all great moms!" - Mary Rhinehart, Chairman, President & CEO, Johns Manville, a Berkshire Hathaway Company