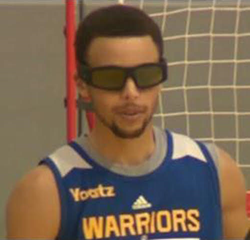 Stephen Curry training with the Eclipse strobe glasses
(PRWEB) December 16, 2015
"After much speculation about the futuristic eyewear Stephen Curry was wearing it at his latest practice session, it's been discovered that they are the Eclipse strobes glasses made by Sensory Performance Technology," says Jemsdaily.
Sensory Performance Technology, world leader in design and manufacturing of sensory eyewear technology, has unveiled the latest breakthrough in sports training: The Eclipse, a new ground-breaking sensory performance training device.
"It's inspiring to have elite athletes in the NFL, NBA, NHL and MLB train with our stroboscopic technology," says CEO & CTO Ben White of Sensory Performance Technology.
Moving away from the days of simply training the body and lifting weights, Sensory Performance Technology is pioneering a new era in cognitive training with the Eclipse.
Strobe technology provides resistance training for the brain. Using a strobe effect, the lenses flicker between clear and opaque, removing visual information and forcing your brain to become more efficient with the limited information it receives. Once you've strapped on the Eclipse, it's time to train.
Set to benefit elite athletes worldwide, the Eclipse is due to release in 2016.
About Ben White – CEO, CTO and Founder of Sensory Performance Technology
Ben holds a Bachelor's Degree in Meta Physical Science and leads the company's operations and research and development team which include industry experts and University partners.
His professional career in Neuro/Biofeedback technology and its applications in peak performance training began in the late 90's and by 2002; he received board accreditation from The National Registry of Neurofeedback Providers as a Certified Neurofeedback Associate.
In 2004, The Institute of Neuro Learning designated Mr. White as Master Sensory Integration Specialist and in that same year he was selected as a finalist in the Charles B. Benenson Entrepreneur of the Year Award, presented by Project Enterprise.
For Press Information Contact: American Wire Services (908) 956-7933
Tina Green – Tina(at)american-wire(dot)com