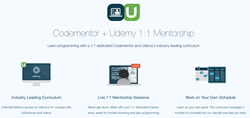 With this partnership, we are combining Udemy's industry leading curriculum with Codementor's 1:1 mentorship to help anyone learn new technologies faster.
Palo Alto, CA (PRWEB) December 10, 2015
Codementor, a leading marketplace for on-demand live help from expert developers, announced today that they are partnering with Udemy to provide industry leading curriculum along with live 1:1 mentorship. Codementor is now launching mentorship plans with structured curriculums in 5 categories, chosen from the top programming courses available at Udemy.
Weiting Liu, CEO and Founder of Codementor, said "With this partnership, we are combining Udemy's industry leading curriculum with Codementor's 1:1 mentorship to help anyone learn new technologies faster."
Codementor first launched in 2014 as a developer marketplace for on-demand help without any structured learning guidelines. Although Codementor now has over 3500+ vetted expert developers with hundreds of free tutorials across a variety of programming topics, the popularity of learning to code has attracted an increased demand for a curriculum coupled with Codementor's live mentorship. To help bridge the gap between online video tutorials and live mentorship, Codementor and Udemy are joining forces to provide a service that combines the two. These Codementor+Udemy mentorship plans can be found here: https://www.codementor.io/monthly
Udemy is one of the largest online education marketplace with more than 9 million users and 35,000 courses. Together with Codementor, Udemy has hand-selected the top rated programming courses to combine its most popular curriculum with Codementor's 1:1 mentorship so that anyone can learn new technologies faster and more effectively.
With the mentorship plan starting at $199 per month, this offering includes lifetime access to Udemy's course material and weekly 1:1 sessions with a dedicated mentor for troubleshooting, expert guidance, and more. Each curriculum takes an average of 3 months to complete and students can learn at their own pace.
About Codementor
Codementor is the leading live mentorship marketplace for software developers. Codementor's network of 3500+ expert developers provide on-demand help and long-term mentorship for developers, ranging from individual beginners to experienced engineers at Fortune 500 companies. Learn more about Codementor at https://www.codementor.io
About Udemy
Udemy is an online education marketplace with over 9 million students. Our course content and instructor community are constantly growing, with more than 35,000 courses taught by 19,000 instructors. We offer students the ability to learn as they go and succeed on their own terms, while instructors have a way to share their knowledge with the world. For companies, Udemy offers a subscription to our best business courses as well as an easy-to-use platform to create proprietary courses. Founded in 2010, privately owned Udemy is funded by the Stripes Group, Norwest Venture Partners, Insight Venture Partners, Lightbank, MHS Capital, Learn Capital, among others. Udemy is headquartered in San Francisco and has offices in Dublin, Ireland, and Ankara, Turkey.
Media Inquiries Email
support(at)codementor(dot)io