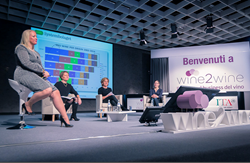 It's the certification that is important for Swedes, the emphasis here is on social responsibility not on creating trendy wines
Verona, Italy (PRWEB) December 09, 2015
Among the 120 + speakers present at this year's edition of wine2wine, the Italian forum dedicated to the business of wine organized by Veronafiere, four women stood out for their coordinated effort to explain to Italian wine producers the importance of sustainability and how it can help enter Systembolget, the world's largest state monopoly.
Stevie Kim, Managing Director of Vinitaly International who launched the first edition of wine2wine in December last year, was happy to welcome moderator Ms Erica Landin, Swedish-American wine journalist, and a panel of three women speakers working at the top of their professions: Theresa Breuer of Weingut Georg Breuer, Ann Burgaz head of the Swedish importer The Wineagency and Sara Norell, Director of the assortment and purchasing department of Systembolaget. All panellists are also members of the prestigious Magnum Club, an informal and energizing group of influential women who's objective is to exchange ideas and experiences about key areas of interest such as, equal opportunity development for women in wine, wine quality development and environmental sustainability.
Other Magnum Club members, Jancis Robinson and Cristina Mariani-May, were also speakers at wine2wine.
In Sweden, sales of wine are restricted to Systembolget supermarkets and at the opening of the session, Ms Norell explained that the monopoly's main objective is to minimize alcohol-related problems by selling it in a responsible way, without a profit motive. After ensuring that Swedes should be protected from the harmful effects of alcohol, it is natural that the principle of sustainably at the heart of this mandate be extended to all of Systembolaget's operations and those of its partners.
Ms Norell continued with a presentation to help the audience visualise Systembolaget's sustainability strategy which affects three main areas: the offer to the customer of sustainable choices like organic wines and lower weight bottles with a smaller carbon footprint, energy efficiency in the company's core operations and, lastly, its suppliers having a sustainable supply chain. Ms Norell then passed on to illustrate the Systembolaget price structure working out at about 30% increase at retail. This is based on a flat percentage applied by Systembolget on all wines on the basis of fluid volume and is comparable to levels of the UK for example. "Because it is a state monopoly, Systembolaget is actually the world's biggest buyer of wine purchasing about 200 Million litres a year" she said, "and there has been a massive increase in market share for Italian wine since 2002, now at over 25%".
The focus of the workshop then shifted to the potential for Italian businesses in a restricted market and the necessity to apply for tenders, which might at first seem daunting but yields distinct advantages for winners.
Ann Burgaz, owner of Wineagency, one of today's largest and most successful wine importers in the Swedish wine industry, talked about the company's purchasing process and gave advice to producers on how to enter the market through the selection procedure. Outlining the stages of the procedure, she encouraged producers to do their homework by reading downloadable guidelines before making applications. "Selection is made on the basis of blind tasting and nothing to do with branding will influence a selection. This promotes fair competition" she added.
The Swedish market can be very profitable but producers need to have a lot of patience, a lot of time and a consistent investment to win a place in it. Italian wine makers should make the first move towards becoming sustainable by following up their supply chain. "Get ready to use lightweight bottles and be sustainable and organic. Remember, it's the certification that is important for Swedes, the emphasis here is on social responsibility not on creating trendy wines" Sara Norell reminded a public of 300 + producers present at the session.
The sustainability of the Swedish population has been the concern of Systembolaget since its founding in 1955. Now it is passing on the commercial value of its business to certified sustainable suppliers. As Ms Landin puts it "this might seem like extra work, paperwork and changes in production strategy, but see it as a potential for the future because right now it's important in Sweden, hopefully in 5-10 year time it will be important to other markets and you are going to be ready".
About:
Veronafiere is the leading organizer of trade shows in Italy including Vinitaly (http://www.vinitaly.com), the largest wine and spirits fair in the world. During its 49th edition Vinitaly counted some 4.000 exhibitors on a 100.000 square meter area and 150.000 visitors including more than 2.600 journalists from 46 different countries. The next edition of the fair will take place on 10 - 13 April 2016.
The premier event to Vinitaly, OperaWine (http://www.vinitalyinternational.com) "Finest Italian Wines: 100 Great Producers," will unite international wine professionals on April 9th in the heart of Verona, offering them the unique opportunity to discover and taste the wines of the 100 Best Italian Producers, as selected by Wine Spectator. Since 1998 Vinitaly International travels to several countries such as Russia, China, USA and Hong Kong thanks to its strategic arm abroad, Vinitaly International. In February 2014 Vinitaly International launched an educational project, the Vinitaly International Academy (VIA) with the aim of divulging and broadcasting the excellence and diversity of Italian wine around the globe. VIA has now also created its very first Certification Course with the aim of creating new Ambassadors of Italian Wine in the World.
###