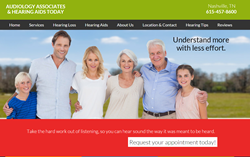 Nashville, TN (PRWEB) December 09, 2015
Patients will often ask their hearing specialist if two hearing aids are necessary or if one will be sufficient. It's true, in rare cases of hearing loss one hearing aid is all that's required. But in most cases, hearing loss is present to some degree in both ears, and so requires two hearing aids, according to Audiology Associates & Hearing Aids Today.
Eyesight is a good analogy. Having two eyes (stereoscopic vision) allows the accurate calculation of height, width, and depth. With only one eye, the ability to perceive depth would be compromised. Because the proper vision of both eyes is equally important, corrective lenses are prescribed for both eyes.
The ears work together in similar ways. Each ear receives a slightly different copy of sound, which allows for the calculation of not only sound volume but also distance, direction, and location. Hearing with two ears (binaural hearing) also enhances the quality of sound and the range of sounds that can be heard.
As with eyesight, hearing loss in both ears requires amplification for both ears, so that the patient can best interpret the distance, location, volume, quality, and range of sound. Patients that use two hearing aids rather than one enjoy several benefits, including the the ability to focus on and understand speech, hear a larger range of sounds, and prevent further deterioration of hearing in the non-fitted ear, among other benefits.
According to Audiology Associates & Hearing Aids Today, since hearing tends to become worse over time, it's important to correct any hearing loss that is present in both ears as soon as possible.
For more information on the advantages of wearing two hearing aids, and for access to the full article, visit Why Two Hearing Aids Are Better Than One.
About Audiology Associates & Hearing Aids Today
Audiology Associates & Hearing Aids Today is a full-service audiology practice located in Nashville, Tennessee. The practice offers comprehensive services including hearing tests, hearing aid evaluations, custom hearing aid fittings, hearing aid cleanings, rehabilitative counseling, preventive care advice, and service and repair for most hearing aid models.
Contact:
Sean Pendel
Audiology Associates & Hearing Aids Today
615-457-8600
http://www.hearingaidstoday.com