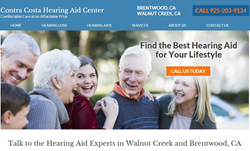 Brentwood, CA (PRWEB) December 09, 2015
For those with hearing loss, hearing during the holiday season can be especially difficult. Large social gatherings with music playing and several people talking and laughing can create an difficult environment for those with hearing loss, making it extremely difficult to engage in conversation.
Modern hearing aids, however, are designed specifically to deal with this type of problem, according to Contra Costa Hearing Aid Center. Specifically, modern digital hearing aids have two features that enable those with hearing loss to participate in and enjoy the holiday festivities.
The first feature is background noise reduction. For those with hearing loss, speech becomes muffled in noisy environments from the presence of background noise. And older analog hearing aids were not much help—they amplified all sound indiscriminately and speech didn't come through any clearer.
What is needed is the ability to distinguish important sounds—such as the human voice and speech—from the unimportant background noise, music, and chatter. Digital hearing aids, by converting sound and frequency into digital information, can distinguish between sounds, amplifying the important sounds while actively suppressing the others.
The second feature is speech recognition, which works together with background noise reduction functionality. Speech is typically in the high-frequency range, while background noise is in the low-frequency range, making it easy for the digital processor to differentiate between the two. Modern hearing aids also include directional microphones that focus on the closest sound source, such as a conversation partner.
For more information on digital hearing aids and access to the full article, visit How Modern Hearing Aids Can Save Your Holiday Season.
About Contra Costa Hearing Aid Center
Contra Costa Hearing Aid Center takes a consultative approach to hearing health care with an emphasis on patient education. In addition to providing hearing tests and fitting hearing aids in Walnut Creek CA, the staff provides support, counseling, advice, and rehabilitation.
Contact:
Toby S. Hill
Contra Costa Hearing Aid Center
Phone: 925-203-9134
[http://www.contracostahearing.com